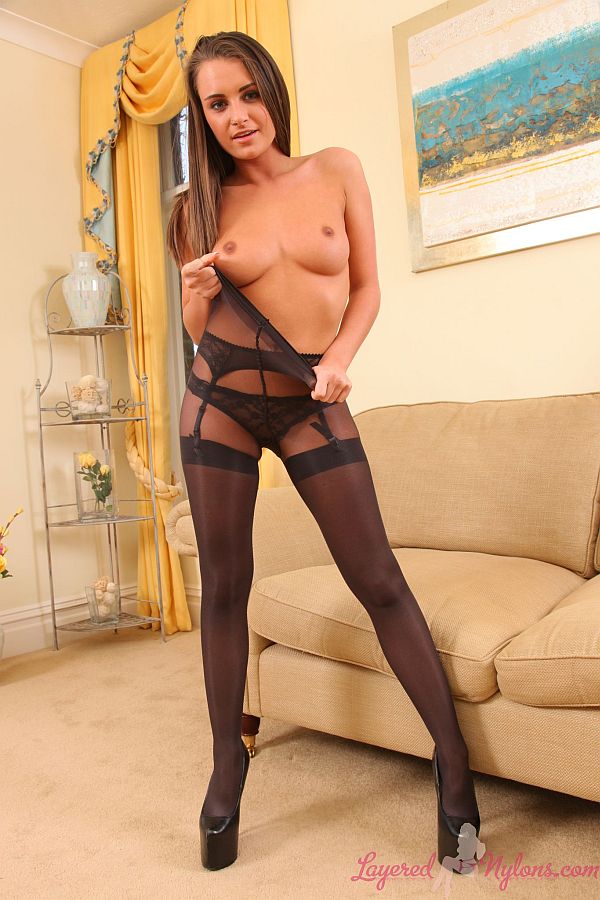 As Siobhan lay back on the sofa and lifted her legs, we noticed how long they looked in the super sexy, stiletto heels. She teasingly pulled back the hem of her pink dress and revealed the tops of her black stockings, under a layer of sheer nylon pantyhose that clung to her thighs.
Kneeling, she presented her rear and pulled up her dress higher to fully reveal she was wearing a black, suspender belt, and lacy panties that adhered to the shape of her sexy bum, under the layer of her tights.
Siobhan pulled down the front of her dress to uncover her all natural breasts and hard brown nipples, which stood quite erect. Sliding her dress down her slender frame and letting it fall, she held the waist of her pantyhose and pulled them up her front, so the nylon stretched tight around her pantie crotch.
Laying back on the sofa, she slipped off her heels and extended her legs upward, giving close up views of her pretty feet, clad in their layers of dark nylon. Then she pushed her hands down the back of her tights and grabbed the cheeks of her ass, crossing her legs at the ankles and pointing the toes of her feet in their sexy nylon hosiery.