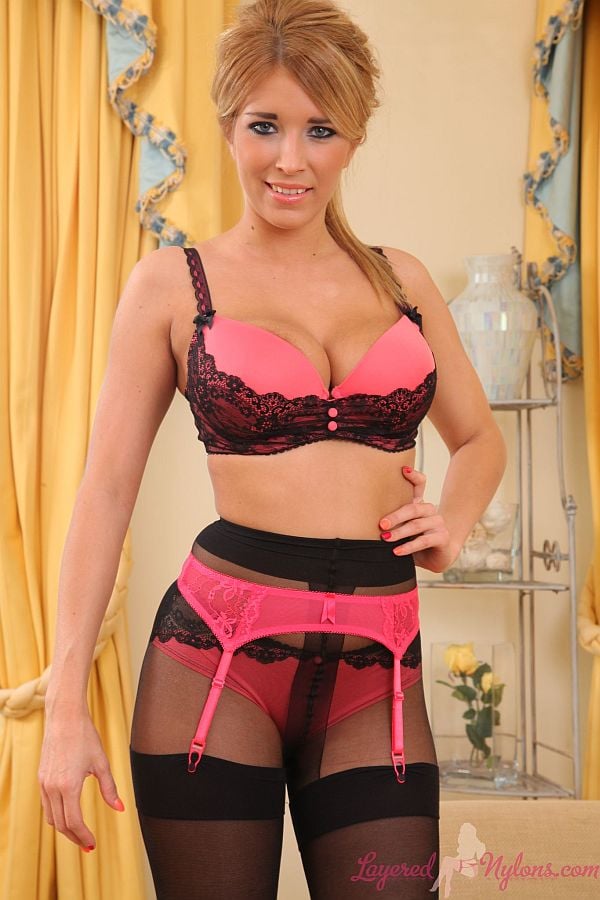 Jodie Piper looked exceptionally alluring in her low cut, figure hugging, black party dress, her legs clad in black hosiery and stiletto heels.
Laying on the sofa she tucked one leg slightly in and stretched out the other to display the long spiky stilettos of her heels. Slowly lifting the hem of her dress, revealed she was wearing a layer of black hose around her thighs, over which pink suspenders stretched to the tops of her stockings.
Jodie stood to unzip her dress and stripped it downward to uncover her pink and black lace bra, then let it slide down her long legs to the floor. She posed in her fabulous lingerie, a lacy pink suspender belt around her hips, the long suspenders attached to her stockings, framing the pink and black panties under her hose.
Looking seductively over her shoulder, she unhooked her bra at the back and stripped it away to allow her all natural breasts to hang freely. Slipping ooff her heels, she stood in her stockinged feet and posed topless in her layers of lingerie and nylon, pushing out her chest and uplifting her breasts with her forearms.