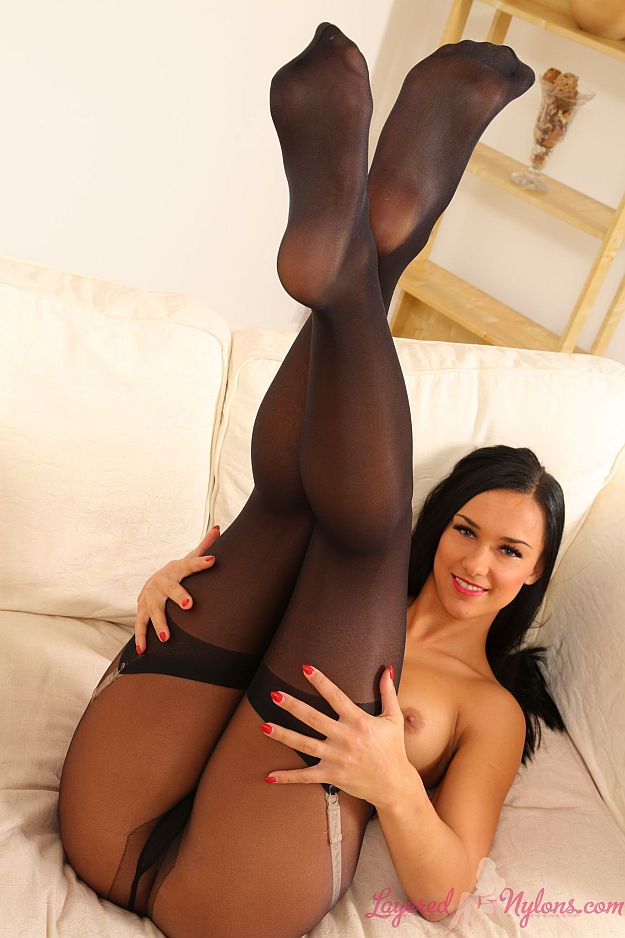 Raven haired beauty Victoria posed for us in a lace pattern dress that clung to her slender waist and curvaceous ass. The tops of her stockings appeared just below the hem of the dress as she stood, giving a rear view of her shapley legs in black nylon hosiery and slingback stiletto heels.
Victoria slowly pulled the dress up her body and stripped it over her head, revealing her gorgeous all natural breasts. A delicate white lace suspender belt around her hips attached to her black nylon stockings, framed the mound of her naked crotch under her sheer nylon pantyhose .
Victoria pulled on the waist of the hose so the gusset stretched around her mons pubis, then slipped her hands under the front panel and touched the lacy straps of her suspenders. She turned and moved her hands inside the hose, resting her palms over her buttocks and pushing her spread fingers against the slight tension of the sheer nylon hosiery.
Victoria reclined on the sofa and caressed her stunning legs in their layers of stockings and pantyhose. Unbuckling the straps of her sexy slingback heels, she took them off and lay back with her legs open to show the trimmed pubic hair visible through the nylon crotch of her hosiery.