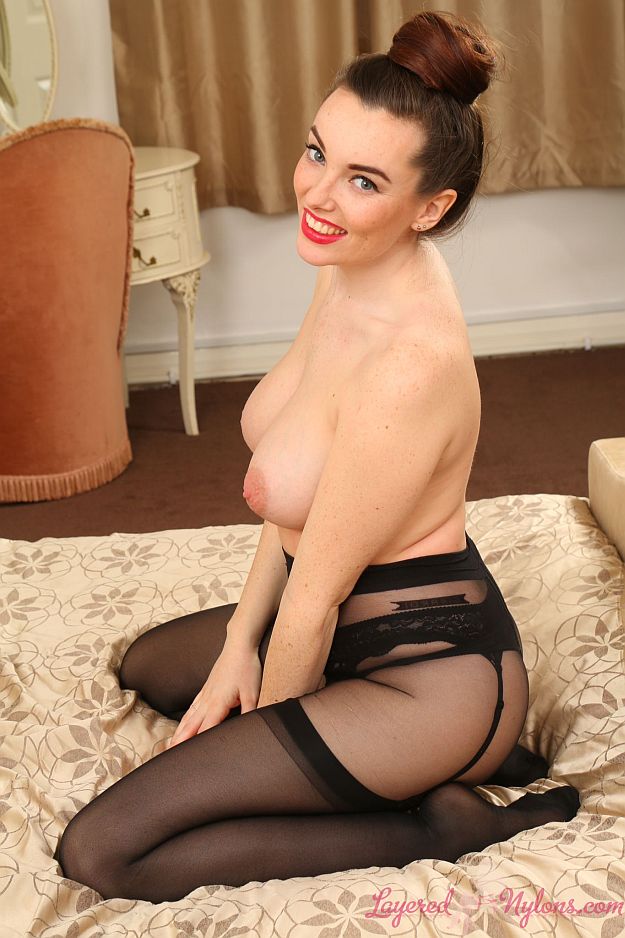 Harry Amelia posed for us in a black leather top and turned to show her ass in a short pink skirt, the bumps of her suspenders visible through the thin material that clung to her thighs.
Harry sat on the end of the bed and pulled back the skirt, opening her legs to reveal black panties, suspenders and stockings under the layer of her sheer nylon pantyhose. She turned to get on her knees and tilted up her ass and the black suspenders stretched around the curve of her buttocks and strained on her stocking tops.
Laying face down on the bed, Harry kicked off her heels and folded her legs back at the knees, bringing her feet together and pointing her toes inside their layers of black nylon hosiery.
Harry stood by the bed in her stockinged feet, bending right over as she stripped the pink skirt down her legs to the floor. Stepping out of the skirt, she turned and stripped the leather top over her head, revealing a black bra that gave a view of her ample cleavage. She pulled the straps of the bra down and leaned forward, giving us a teasing view of her fleshy tits hanging inside the loosened cups.
Harry stripped off the bra and exposed the flesh of her copious breasts and their large, round aureolas and pink nipples. Posing topless, she pushed both arms under the waistline of her pantyhose as far as her elbows, her fingers touching the soft flesh of her thighs and tops of her stockings.