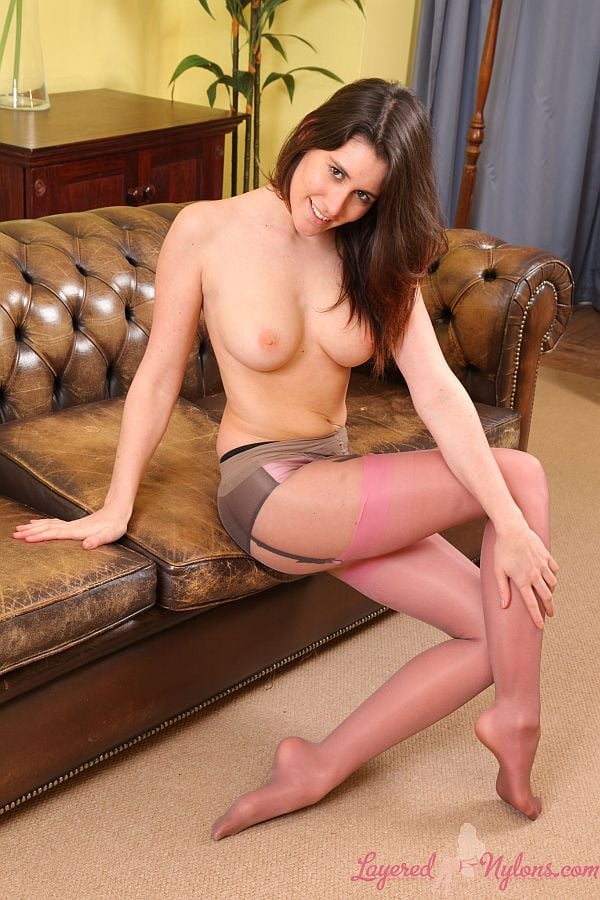 Ulrika sat with her legs up on the leather sofa and pulled back the hem of her dress to show she was wearing a layer of sheer beige-tan pantyhose over pink stockings.
Getting up to give a rear view, she raised the back of her dress to reveal she was wearing black, sheer nylon full-cut panties under her pantyhose, and long black suspenders which stretched down the back of her thighs to pull on the tops of her nylons.
She slipped off her silver spangled heels and sat with her feet on display, flexing and pointing her toes, then lay back and lifted up her legs to offer a closer look at her sexy feet inside their cocoon of pinkish nylon.
Ulrika slipped off her dress to reveal she was wearing a lacy lingerie bra that matched her panties, and that her tan pantyhose were fitted high up around her slender waist.
Pushing her hands down the sides of her shiny nylon tights, she moved them over her thighs and touched the tops of her stockings, then pulling on the waist of her hose she stretched them higher up her belly.
Ulrika removed her bra and reclined once more of the sofa to pose topless and extended her legs to give more views of her feet in their layers of pantyhose and stockings.