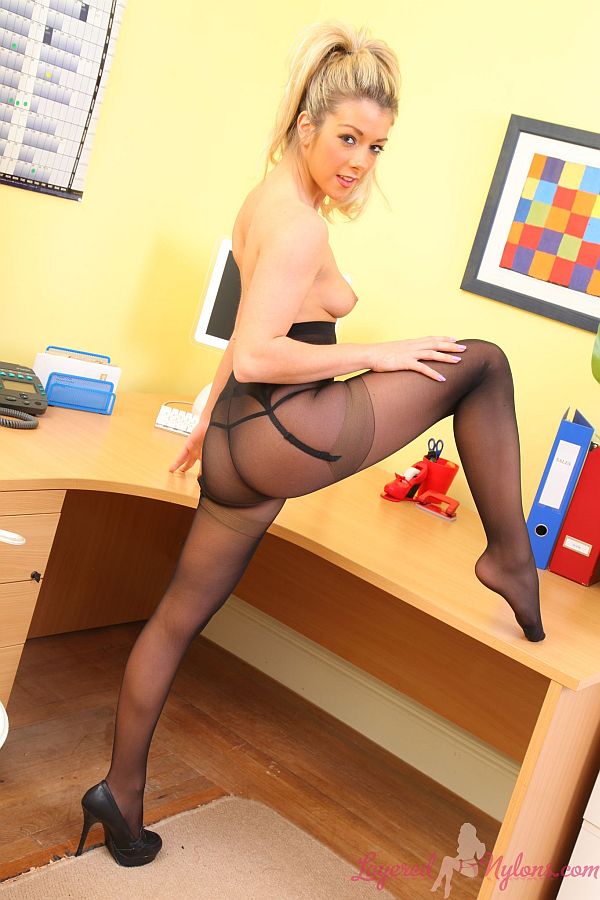 Tilly was sitting at her desk talking on the phone and she didn't know it, but her skirt had pulled up her thighs and we could see the top of her black pantyhose.
'What are you both looking at?' Tilly said, suddenly noticing we her having a good look at her gorgeous legs dressed in sexy, shiny hose. 'Do you want to see some more?' She added, clearly enjoying the attention and the chance to be a bit naughty in the office.
Tilly climbed on top of the desk and spread her legs open so we could see she was wearing black panties, which fit tightly around her crotch under her sheer nylon tights.
'There is that better, then?' She smiled, then pulled the skirt a little higher to show she was wearing black suspenders attached to the tops of tan nylon stockings, under her layer of sheer pantyhose.
Tilly removed her top to show she was wearing waist high pantyhose and a black lace, sheer nylon bra through which you could almost see her nipples.
Pulling down her skirt revealed she was wearing a black, lacy suspender belt under her hose, and then she turned to give us a view of her suspenders stretching over the cheeks of her ass and down to the tops of her nylon stockings.
After removing her bra and slipping off her stiletto heels, she lay back on the desk top and lifted up her legs, offering us close up views of her pretty feet and toes sheathed in their layers of sexy, nylon stockings and pantyhose.