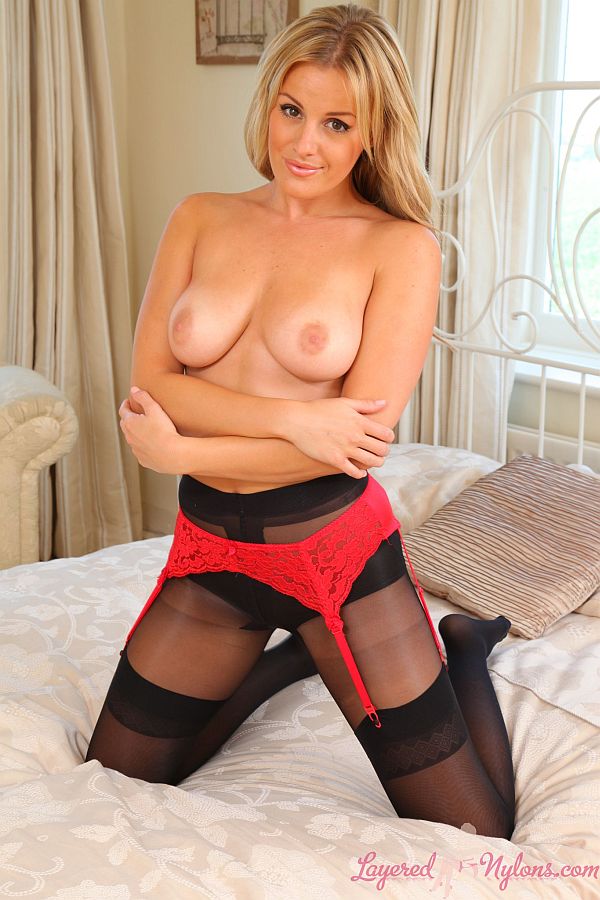 Amy Green looked spectacular in her long red dress which stopped just below her knees, her legs covered in black nylon and her feet in shiny, patent leather heels.
Amy stood with her back to us and slowly pulled the dress up to her waist, revealing her fabulous ass sheathed in a layer of black nylon pantyhose, over which red suspenders stretched and pulled on the top of black nylon stockings.
She posed with one leg on the bed and offered us lots of 'up views' of her ass encased in black, full-cut panties, which were also layered under her pantyhose.
Slipping the dress off her shoulders, she lowered it down her body, briefly concealing her naked breasts in her hands awhile before she fully uncovered them to pose semi-naked in her lingerie.
Amy knelt on the bed with her arms folded under her boobs, the red lace suspender belt contrasting strongly against the black pantyhose around her waist, which she pulled and stretched up her belly.
She slipped off her shoes and stood by the bed, then lifted the back of her heels so she was balanced on her toes, posing topless as she showed off her shapely legs in shiny, black layers of nylon.