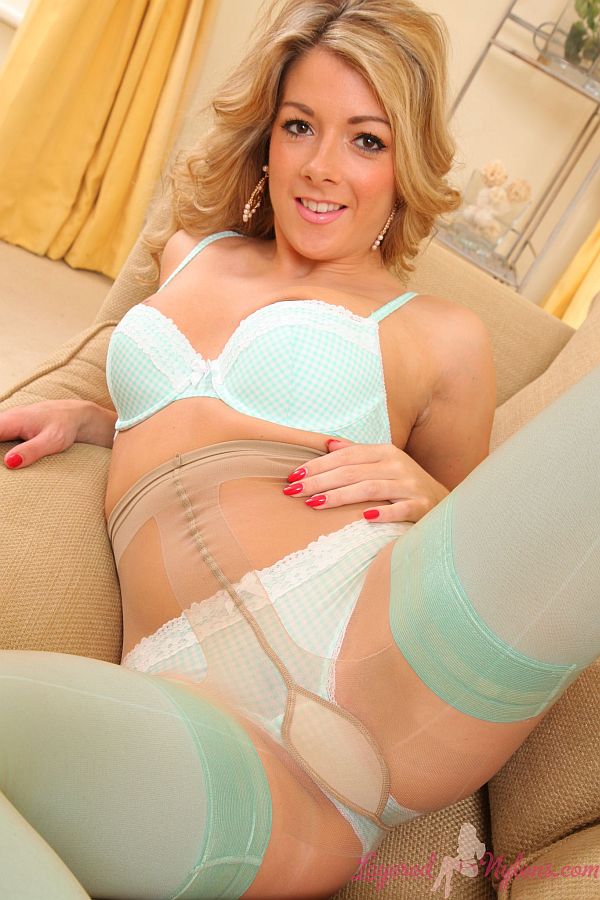 Tilly looked super glamorous in her turquoise blue, chiffon negligee, laying back on the sofa with her legs crossed, showing just the the tops of her stockings and displaying her white, stiletto heels.
Opening her legs revealed she was wearing a layer of tan pantyhose over her blue, hold-up stockings and the opaque, nylon gusset, nicely contrasted against the blue gingham of her sexy panties.
Tilly stood and hooked her thumbs into the waist of her short skirt and slowly let it slide over the cheeks of her ass and down her legs. Then she stripped off her negligee and clingy, white top, revealing her hose pulled right up her front and just under her matching gingham style bra.
Tilly turned and placed one foot on the sofa to give a view of her perfectly shaped ass sheathed in panties and the tight layer of her gorgeous, tan nylon pantyhose. She pulled the straps of her bra down her arms, then undid the eye-hooks at the back and stripped the bra away to reveal her gorgeous, all natural breasts and soft, round aureoles.
Tilly slipped off her heels and standing, she raised herself up on her stockinged toes and pushed her hands down the rear of her pantyhose to spread her fingers over her buttocks. Then she teased down her knickers so they were stretched around her bum, her hands moving under the sheer nylon of her tights as she stretched them around her ass.
Tilly turned and posing topless, she pulled the front of her hose right up her front so they were stretched tight around the crotch of her panties, as she posed in her sexy layers of nylon hosiery.