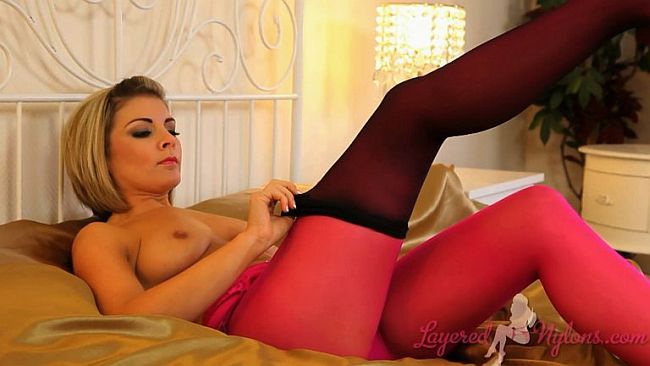 Naomi is so tried after a long day in the office and is ready to climb into bed wearing a dazzling, pink satin chemise and sheer nylon pantyhose over black stockings.
Lifting her chemise reveals she is wearing a pink satin suspender-belt, full-back panties and black stockings under the layer of her coloured, sheer nylon tights. Slipping the straps of her chemise over her shoulders, she lets it slide down her body and uncovers her petite, all natural breasts as she poses on the bed in her layers of lingerie and nylon.
Naomi slips off her pink heels and rubs her feet together along the shin and ankles of her legs, then rolls down her pantyhose and takes them off. She enjoys the sensation as she brushes her stockinged legs together, before detaching her suspenders to take off her black nylon stockings.
Naomi then pulls on her tights and carefully inserts her arms inside each of her stockings in turn, before rolling them over her feet and up her legs. She reattaches her pink suspenders to the tops of her stockings so they are layered over her hose, then stands in her stockinged feet and runs her hands over her ass, as she poses topless in her lingerie and nylon hosiery.