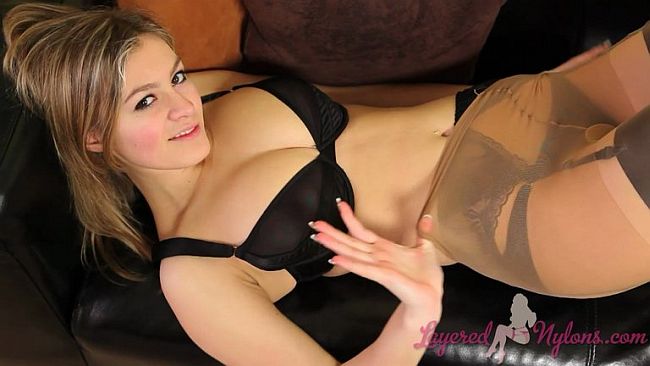 Pretty blonde Summer moved sensually, swaying her body as her hands caressed the outline of her curves under the tight material of her bottle green dress that clung to her shapely body.
Summer snaked her hips and lifted up the hem of her dress, revealing beige sheer nylon pantyhose layered over black suspenders and stockings. Stretching and pulling the hem of her dress around her thighs gave a tantalizing view of her stocking tops, and rubbing her legs together caused her stockings to whisper with the sound of nylon brushing against nylon.
Standing with legs apart, Summer bent over and ran her hand over her black panties under the layer of pantyhose that encased her buttocks. She swayed her ass from side to side and her suspenders stretched around the curve of her bum, pulling taut on the tops of her sexy stockings.
Stripping the dress over her head revealed a black bra that supported her breasts and gave a view of her ample cleavage. Then laying back on the sofa, she hooked her thumbs into the waist of her pantyhose and teased them down around her thighs and uncovered the lacy suspender belt around her hips.
Summer seductively unclasped her bra, stripping it away to fully reveal her perfect all natural tits, then she stood and moved sensually as she pulled and stretched her pantyhose around her slender waist.