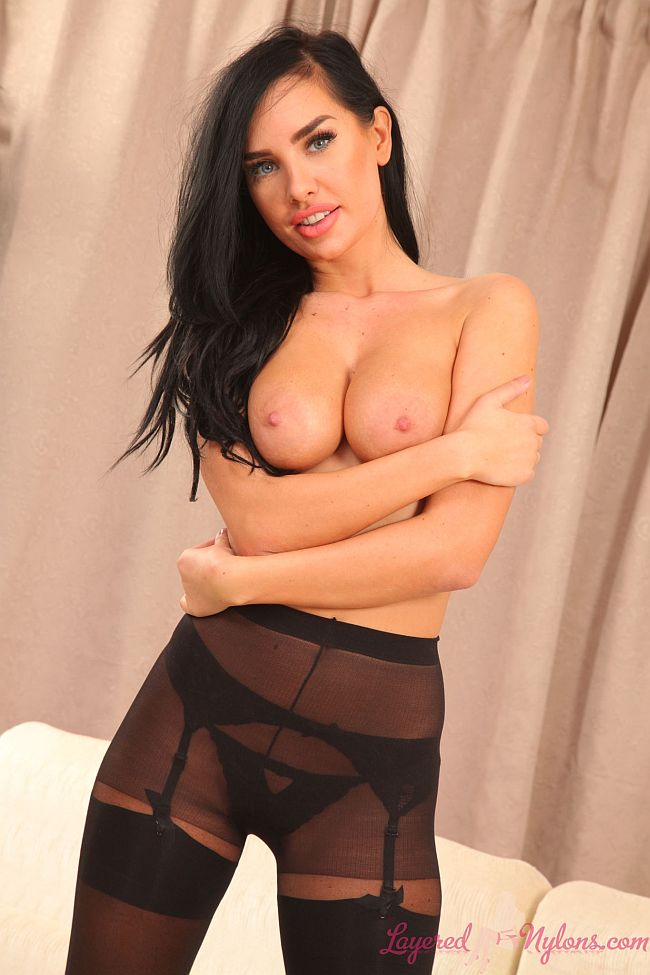 Busty brunette Ann D looked so classy and elegant in her black, low plunge line dress, the open halter neck giving us a tantalizing view of her ample bosom. Standing sideways on, she raised her arms and her hands touched her long, black hair that sloped over her shoulder and fell down her naked back.
Ann posed on the sofa, brushing her long legs together in their black nylon hosiery, then lifting the back of her dress to reveal black suspenders and the tops of her stockings. Kneeling, she stretched forward and lifted her ass into view, the cheeks encased in nylon and bound by the black suspenders stretching around her buttocks.
Ann pulled open the halterneck of her dress to expose her large round tits, then posed with her arms raised around her head and pushed out her chest to give a view of her boobs. She pulled down the dress and stripped it off, revealing the black suspender-belt around her hips, and skimpy pantie thong under the layer of her sheer nylon pantyhose.
Ann slipped off of her stiletto heels, then stood in her stockinged feet to pose topless in her black lingerie and layers of nylon hosiery.