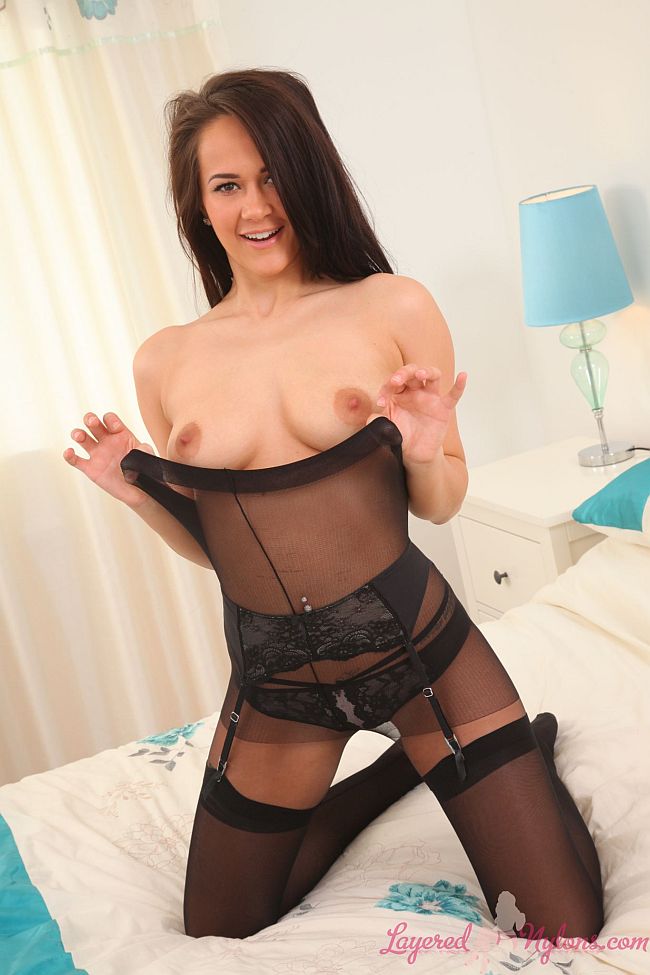 Brunette secretary Felicity posed for us dressed smartly in her smart grey jacket, tight fitting dress, her shapely legs so sexy in black hosiery and stiletto heels.
Felicity teased out of her jacket and took it off, then bent over and pulled up the back of her dress. She stuck out her cheeky bum clad in panties and pantyhose, her suspenders stretching around her buttocks pulling taut on the tops of her seamed nylon stockings
Stripping off her dress revealed a lacy designer bra and a lace suspender-belt, the suspenders framing the matching panties under her sheer nylon hose. She slipped her hand down the front of her hose and her fingers brushed over her panties. Withdrawing her hand, she slipped her fingers down the tops of her stockings and caressed the soft layer of nylon that clung to the flesh of her thighs.
Felicity sat on the bed and slipped off her heels, then lifted her legs and rested the ankles on the bottom bed rail to give a close-up view of her feet clad in black nylon.
Getting up to stand in her stockinged feet, she smiled seductively over her shoulder as she released the catch of her bra. Stripping the bra away, she turned to display her all natural breasts while she posed in her lacy lingerie and layers of nylon hosiery.