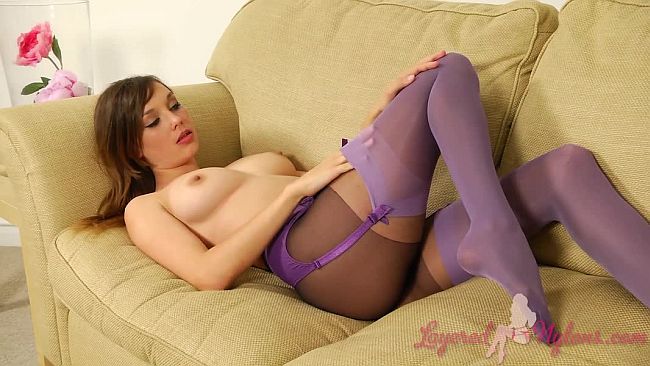 'Hi, I'm Jo and I really hope you'll enjoy my video,' said our sexy redhead, dressed in a black sleeveless top, wine red short skirt, plum colored nylons and stiletto heels.
Reclining on the sofa, Jo stretched out her legs and pulled back her tight skirt, revealing thighs clad in black hose and purple suspenders attached to the tops of her stockings. She arched her back, moving her body in a sensual rhythm as she slipped her fingers between the layers of nylon around her thighs. Hand moving under the stretchy tops of her stockings, she caressed her nylon hosiery and plucked the straps of her purple suspenders.
Jo pulled her legs back against her chest and slipped off her dark red stilettos each in turn, inserting her toes inside one heel as she toyed with it playfully on her foot.
Standing in her stockinged feet she stripped off her top, revealing ample breasts inside a black bra decorated with pretty pink flowers.  She pulled up her skirt and gave her ass a sexy wiggle, the 'whale tail' of her pantie thong slipping between her buttocks sheathed in black sheer nylon. She slipped her skirt down her legs and stepped out of it, then stripped off her bra and fondled her all natural breasts and their large erect nipples.