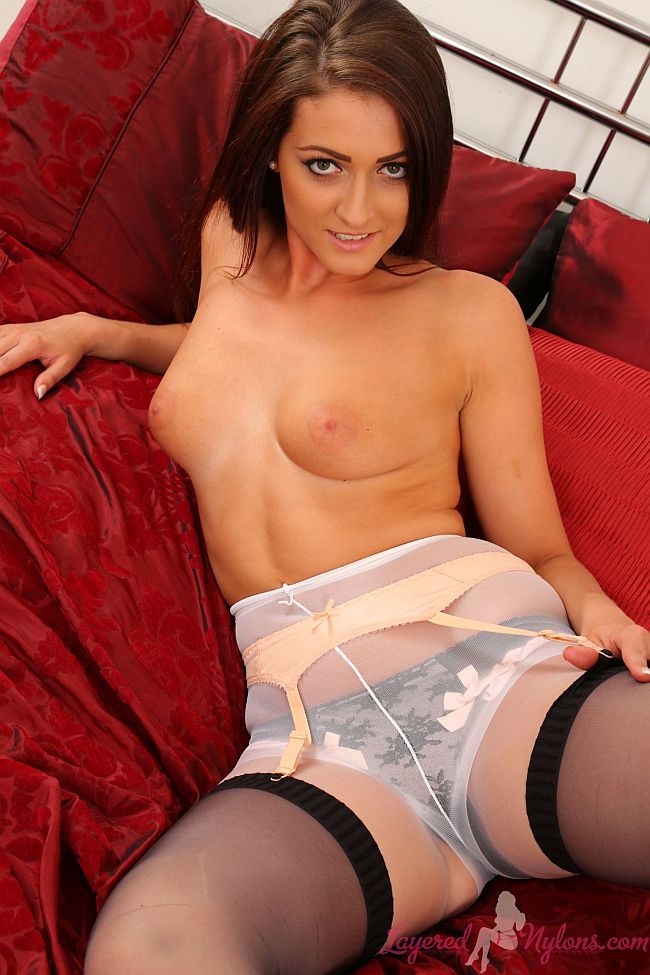 Secretary Demi returns home after a day at the office and stripteases out of her light blue shirt, short grey skirt to pose topless in her layers of nylon hosiery in this photo-set.
Demi stands and gives us some nice up-skirt views of her peach colored suspenders attached to black stocking tops, the gusset of her white pantyhose stretched over the crotch of her panties.
Bending over she looks back and smiles as she slowly teases her skirt down her legs; revealing the cheeks of her bum sheathed in panties and nylon hose, bound by the taut suspenders straining on the tops of her stockings.
Reclining on the bed, Demi unbuttons the front of her shirt and opens it up, revealing a black and silver underwired bra with satin frills that match her panties under the layer of her sheer nylon pantyhose.
Stripping off the skirt, Demi kneels on the bed and poses in her skimpy peach satin suspender belt, the suspenders framing her panties under her sheer nylon hose. She unbuckles her heels and lifts her legs up high, crossing them at the ankles to give a view of her feet encased in their double layers of nylon
Finally, releasing the catch of her bra, she holds the cups in place as she strips the garment away to pose topless in her layers of lingerie and nylon hosiery.