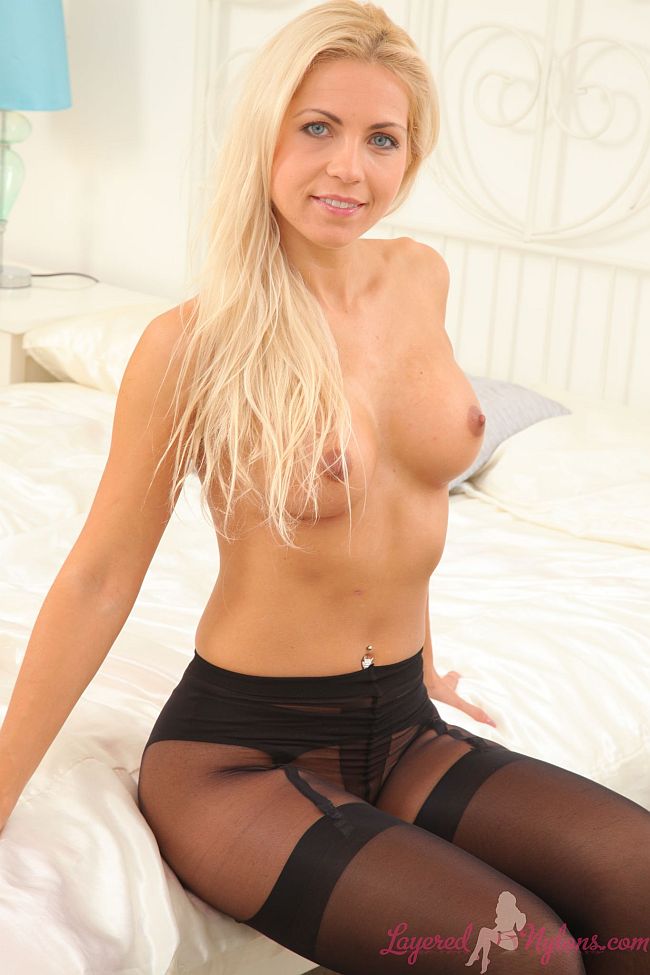 Blonde Jenni returns dressed so very elegantly in a black dress, nylon hosiery and stiletto heels in her 14th appearance on Layered-Nylons.
Jenni stood and lifted one leg to rest her foot on the side of the bed and slowly drew back the hem of her dress to give a tantalizing view of her black suspenders and stocking tops. She slipped her thumb under her suspender and stretched it out, then let it snap back against her thigh clad in it's layer of black, nylon pantyhose.
Teasing the straps of the dress over her shoulders she gradually revealed her naked, all natural breasts and hard pink-brown nipples. Then she turned and lifting the back of her dress, she slipped her hands down the back of her hose and spread her fingers over the cheeks of her fabulous ass.
Jenni knelt on the bed and stripped the dress over her head, revealing she was sans panties under the layer of her sheer nylon pantyhose. Then removing her heels, she lay back and pulled the waist of her pantyhose upward so the gusset stretched tight around her naked crotch.