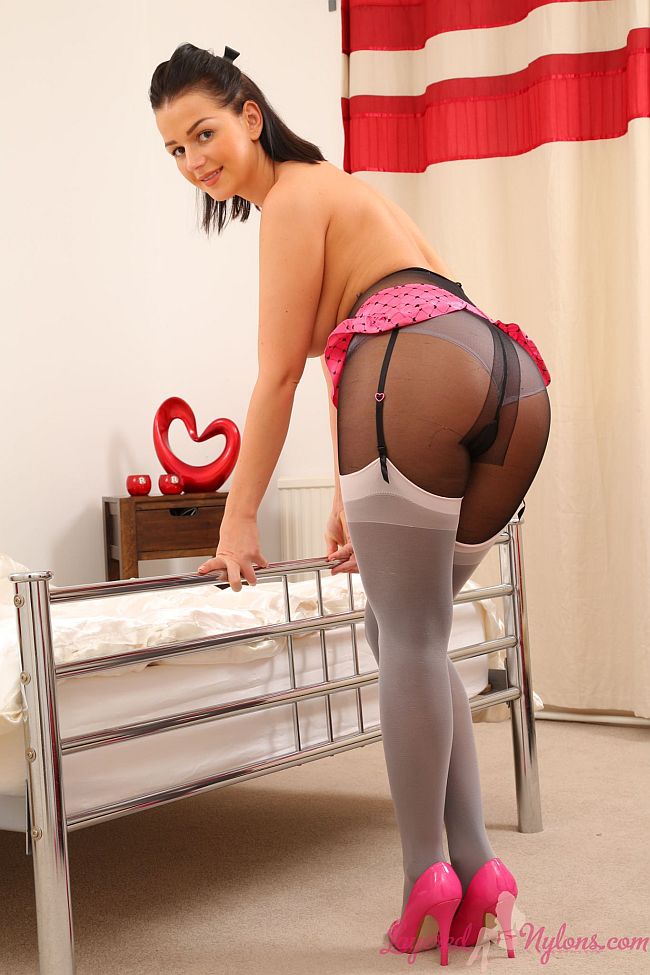 Erica looks ready for a night of passion dressed in her short, black satin dressing gown, pink chemise, hosiery and heels in her latest photo-set.
Erica smiles as she relaxes on the bed, allowing her satin gown to part at the front to give us a tantalizing view of her thighs in black pantyhose, layered over by black suspenders attached to contrasting white stockings.
Erica turns to kneel and show her fabulous ass sheathed in a layer of black nylon hose, under which she is wearing her flimsy panties that slip between her shapely buttocks. As she crawls across the bed, the thin black suspenders stretch around the curve of her butt cheeks and pull taut on the tops of her white stockings.
Erica strips off her gown to uncover her pink satin chemise, then slips the thin straps over her shoulders and pulls it down to reveal her gorgeous breasts and thick, puffy nipples.
Removing the chemise reveals she is wearing a frilly, pink suspender-belt around her hips and black suspenders attached to her stockings. Laying back she lifts up her legs and crosses them at the ankles, then slides her hand between the layers of nylon hose around her thigh and the tops of her stockings.