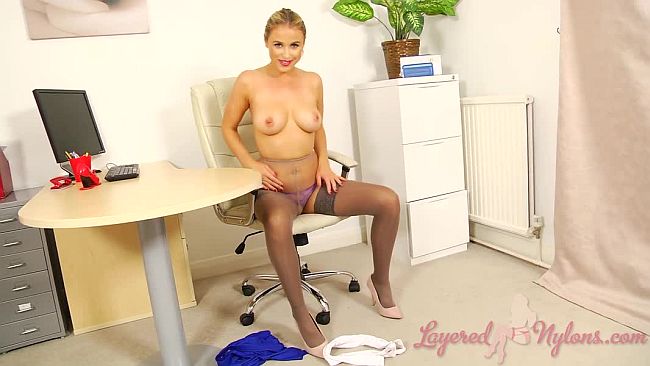 'Hi guys, welcome to my office,' Rosie said, looking sexy and ready to tease in her white boob tube, blue wrap around skirt and stiletto heels.
Rosie had certainly dressed to impress and parading around the office she teased by bending over the filing cabinet to show us her ass in that tight fitting skirt.
Sitting poised on the desk, Rosie seductively caressed her legs in their shiny nylon hosiery and gave a tantalizing view up her skirt at her black stocking tops. Spreading her thighs revealed the beige-tan gusset of her pantyhose stretched over the the crotch of her purple panties. Her nylons rasped as she seductively brushed her legs together in their silky nylon hosiery, crossing and uncrossing and her ankles and gently rubbing her calve along the length of her shin.
Standing, Rosie bent over as she stripped the skirt down her legs, revealing her ass cheeks in purple lace panties under the sheer nylon of her tights. She turned and paraded around in her heels, pulling down her boob tube and pressing her tits together, her fingers circling over the flesh of her erect nipples.
Rosie sat in her chair, extending her stockinged legs and slipping off her heels each in turn, letting them dangle from her toes before they dropped to the floor. She raised her legs and rested them on the desk top, giving a close up view of the soles of her feet and wiggling her toes inside their layers of nylon hosiery.