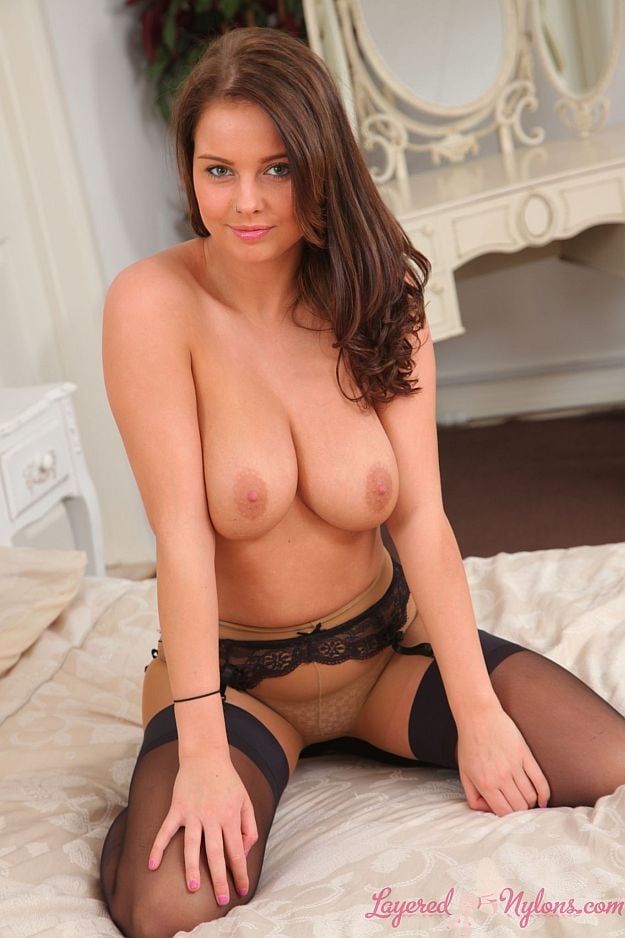 Pretty brunette Kay smiled, her breasts thrusting under the tight, black stretchy top, standing with her hands around the waist of her blue skirt, her shapely legs looking so sexy in their layers of nylon hosiery.
Kay turned, looking over her shoulder as she lifted up the back of her skirt, revealing dark pink satin panties under the layer of her beige, sheer nylon hose. Her black suspenders stretched around the curve of her bum cheeks and pulled taut on the tops of her sexy nylon stockings.
Kay unzipped the back of her skirt and stripped it off, revealing a black lace suspender belt around her waist and the lace pattern of her panties under her hose. She crossed her arms and pulled the black top over her head, shaking her beautiful brunette hair loose and posing with her ample all natural breasts hanging down her chest.
Kneeling on the bed, Kay tilted up her rear end to show more of her sexy ass bound by her suspenders and clad in their layers of panties and sheer nylon hosiery.