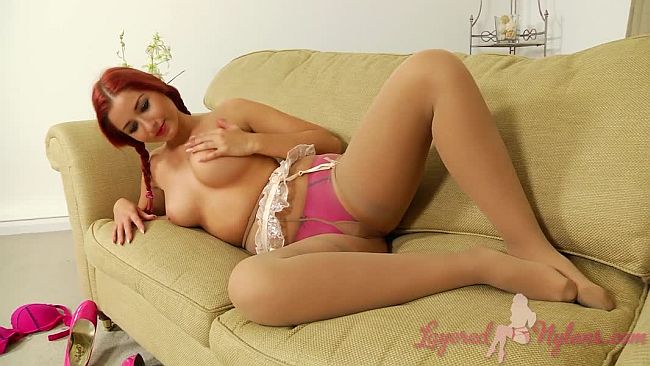 Harley just got back from a picnic party looking cute with her red hair in pigtails, wearing a pretty pink floral dress and legs in smooth tan hosiery and candy pink heels.
'I'll just give you a quick flash of what I'm wearing underneath,' she says, lifting up her dress to show a frilly lace suspender-belt, tan stockings and beige pantyhose layered over pink panties. 'These stockings and tights feel really sexy and soft, and so do these pink panties' she says, running her hands over her shapely bum cheeks encased in their layer of sheer nylon.
Harley sits on the sofa with her legs spread wide apart to show the gusset of her hose stretched over the crotch of her tight, pink panties. She pushes her hands under her stocking tops, her fingers caressing the silky smooth layer of nylon hosiery around her thighs.
Harley removes her heels and stands in her stockinged feet, then takes off her dress to uncover a pink bra supporting her perfect all natural breasts. Stripping away the bra, she uplifts and caresses the flesh of her ample boobs while posing in her pink panties, sheer nylon hose, lace suspenders and tan stockings.