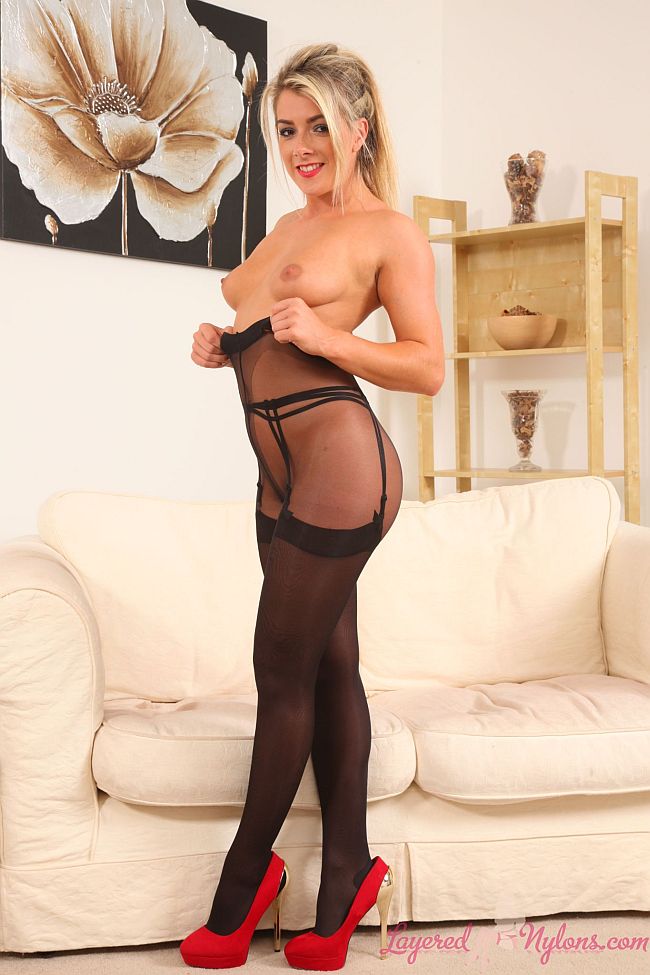 Tillie looked super sexy as she posed in her red polo-neck dress and gave a tantalizing glimpse of her black stockings tops. Standing, she turned to show how sexy her shapely legs looked in their layers of black nylon hosiery and the contrasting red stiletto heels on her feet.
Tillie reclined on the sofa and laying on her front she swung back her lower legs to kick up her sexy stilettos. Her dress pulled up about her waist, she showed her fantastic shapely ass sheathed in black nylon hose, her suspenders pulling taut on the tops of her seamed nylons stockings
Tillie lifted her dress to show her pretty red bra and designer suspender belt around her waist, the suspenders framing her naked crotch under the layer of her sheer nylon pantyhose. She turned to stand with her back to us, hands around her hips as she showed her fabulous buttocks bound by the straps of her suspender-belt and encased in the clingy nylon of her hosiery.
Tillie slipped the straps of her bra over her shoulders and held the loose cups over her chest, then finally stripped it away to expose her luscious all natural breasts. She removed her stiletto heels, then stood in her stockinged feet and posed sans panties in her sheer nylon pantyhose, suspenders and stockings.