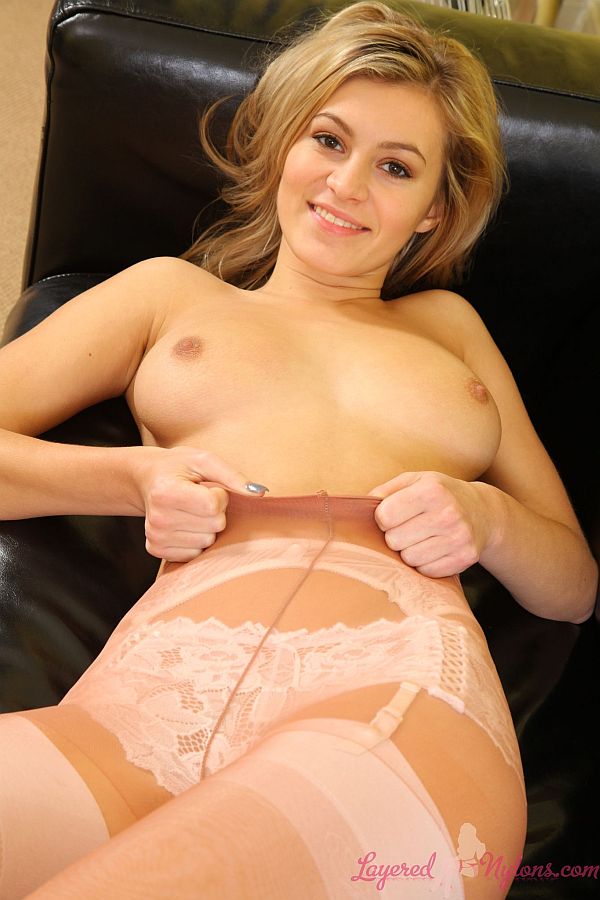 Summer had plenty of time to put on a little show for us before going to a special party for which she had selected to wear a short, white dress, pantyhose and white, stiletto heels.
Overall, she looked very smart in her outfit as she posed hands on hips in her short dress and almost nude nylon hose, which you'd have hardly noticed but for their glossy sheen that appeared whenever she moved her legs.
Kneeling on the leather sofa, she slowly pulled up her dress to reveal white lace knickers, suspender belt and stockings, all worn under a layer of light-beige nylon pantyhose. She leaned over and presented her ass in sexy lace knickers, that narrowed and ran between the cleft her buttocks and under her crotch. The white suspenders stretching down the back of her thighs, pulled on the tops of her stockings, where the white satin ribbons covering the clasps flattened under the layer of her beige nylon pantyhose.
Summer stripped off her dress and sat to remove her heels, then lifted up her legs to give a close-up view her pretty feet in their layers of soft, tan hosiery. She hooked her thumbs into the waist of her pantyhose and slowly pulled them over her pantied ass, then down her legs to fully strip them off.
Summer posed topless as she detached her suspenders and stripped off her white stockings completely, then slipped her feet into her pantyhose and rolled them up her legs and fitted them around her waist, under the layer of her white suspender belt. She placed her feet inside her stockings and carefully rolled them up her legs, finally attaching her suspenders to complete her reverse striptease.