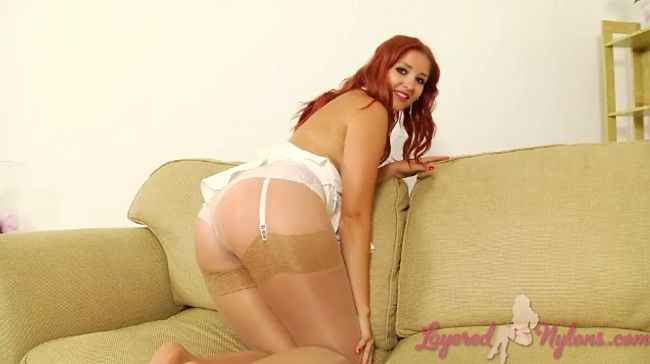 Harley looked alluring in her new party dress, it's low cut halter neck covering her naked breasts gave a tantalizing view of her cleavage…
'I love my new "going-out" party dress, it makes me feel really sexy,' Harley said, as she flaunted herself in her short, designer dress, drawing our attention to the shiny nylon hose that reflected shimmering bands of light up her shapely legs.
'I've got my layered nylons on today, because I love the way the feel so soft on my legs,' she said, lifting the hem of her dress and running her hand over her suspenders and stockings, under the layer of her shiny nylon tights.
Harley slipped off her heels and knelt on the sofa to lift up the back of her dress, revealing white lacy knickers and the beige-tan tops of her stockings, under the layer of her her glossy pantyhose. Her hand caressed the curve of her fabulous ass, sweeping over the shiny surface of her hose that encased her buttocks in a tight layer of nylon.
Harley pulled open the side of her halter-neck dress and ran the palms of her hands over the hard nipples of her exposed all natural breasts. She then stripped off her dress and stood in her stockinged feet, posing topless in her white panties suspender belt and layers of beige-tan nylon hosiery.