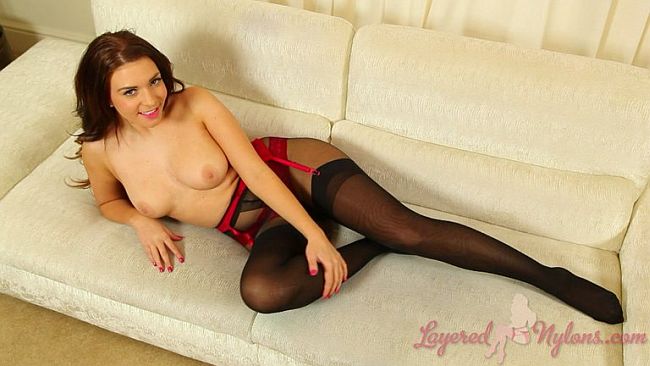 Stephanie is the type of girl you'd love to have on your arm and take to a party, especially with her dressed like she is in this video…
Looking very seductive in a long, black skirt through which her leg appears between the folds of the side split, she is sure to turn heads and ignite desires in the hearts of men.
Stephanie gives us a sexy wiggle as she parts the split in her skirt and reveals red suspenders attached to her stockings, layered over black hose that clings to her thighs. Lifting the skirt higher, she turns to show off her bum sheathed in sheer hose, under which we see she is wearing red, lacy knickers.
Stephanie is a delight to watch as she strips off her skirt and top, revealing a red bra which she removes to display her perfectly formed all natural breasts. Swaying her hips as she parades in her lingerie, her red suspenders stretch and pull on the tops of her black nylon stockings as she moves in a sexy rhythm.
Slipping off her heels and reclining on the sofa, she pulls her thighs back against her chest and cycles her legs in the air, pointing her pretty feet and toes, sheathed in their layers of black nylon hosiery.