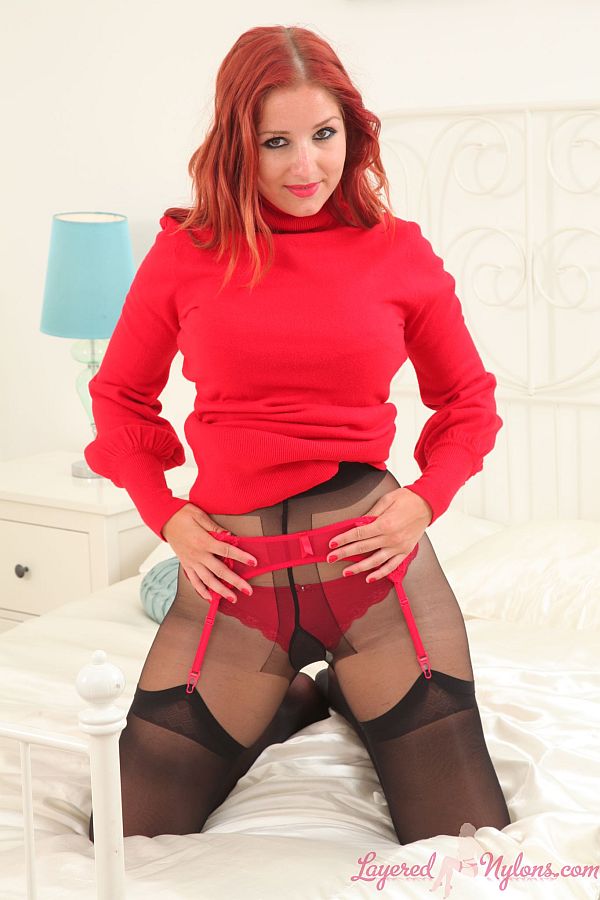 Harley stood and posed in her red dress, so short it revealed her red suspenders and stocking tops, her legs clad in black nylons and sexy kneed high, suede boots.
Laying on the bed she shifted onto her side to give a view of her sumptuous ass, sheathed in sheer black nylon pantyhose, her red suspenders stretched over her thighs pulling taut on her stockings tops. She slipped off her leather boots and reclining on her back, lifted up her legs and crossed them at the ankles to show off her tiny feet clad in black nylon hosiery.
Harley stripped off her dress to reveal she was wearing a pink, frilly bustier that held her ample bosom in place. Standing by the bed, she lifted the heels of her stockinged feet off the floor and balanced herself on her stockinged toes, as she posed in her contrasting red panties, suspender belt and black nylon tights.
Harley slipped the straps of her bustier over her shoulders and stripped it away to uncover the pale pink flesh of her all natural breasts. Standing in her stockinged feet, she pushed her hand under both layers of her black pantyhose and red suspender belt, as she posed topless in her sexy red lingerie.