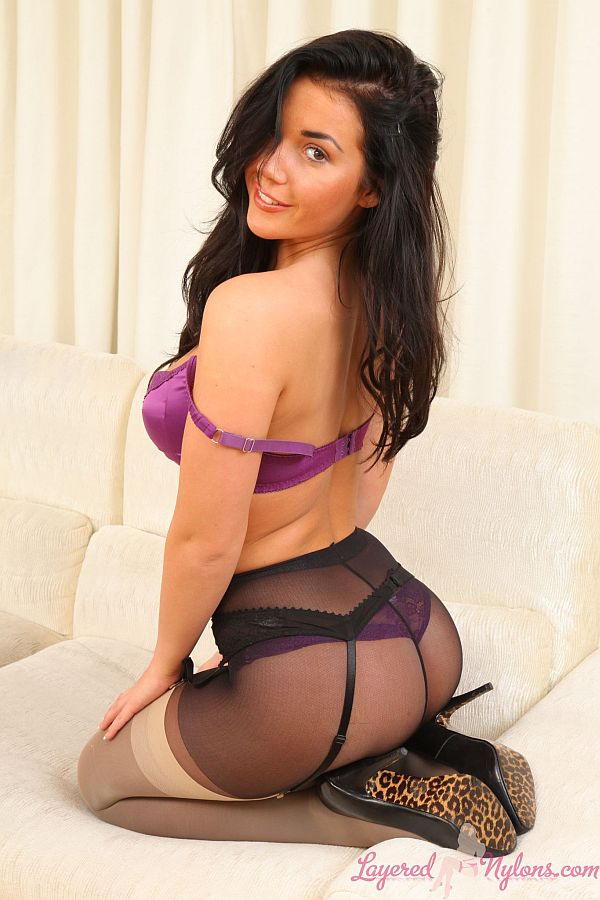 Georgina is your perfect personal assistant, dressed to impress in a short, polka dot skirt that really shows off the sexiness of her curvy ass and tantalizing glimpses of her stocking tops…
Georgina is such a tease, lifting the hem of her skirt just so far to display what she is wearing underneath – black suspenders attached to beige nylon stockings, all layered over black nylon pantyhose that clings to her shapely thighs.
Turning around she pulls up the back of her skirt, just enough to display the sweet cheeks of her bum, sheathed in delicious black nylon hose, her suspenders pulling taut on her stocking tops. Bending slightly, she pulls her skirt down her stockinged legs, then strips off her black top to reveal she is wearing a brightly coloured, purple satin bra with lace trim.
Georgina looks ravishing with her long brunette hair flowing over her shoulders, the mounds of her breasts so enticing as they thrust out of the top of her bra. Slipping the straps of her bra down her arms. she reaches behind and releases the eye-hook and strips it away to expose the soft flesh of her all natural boobs.
Georgina slips off her heels and kneels on the sofa, then sits back on her ankles so the rounded cheeks of her ass expand inside the layer of her sheer nylon pantyhose. Looking back over her shoulder with her long, dark hair cascading down her back, she smiles as she displays the soles of her pretty feet cocooned in their layers of nylon hosiery.