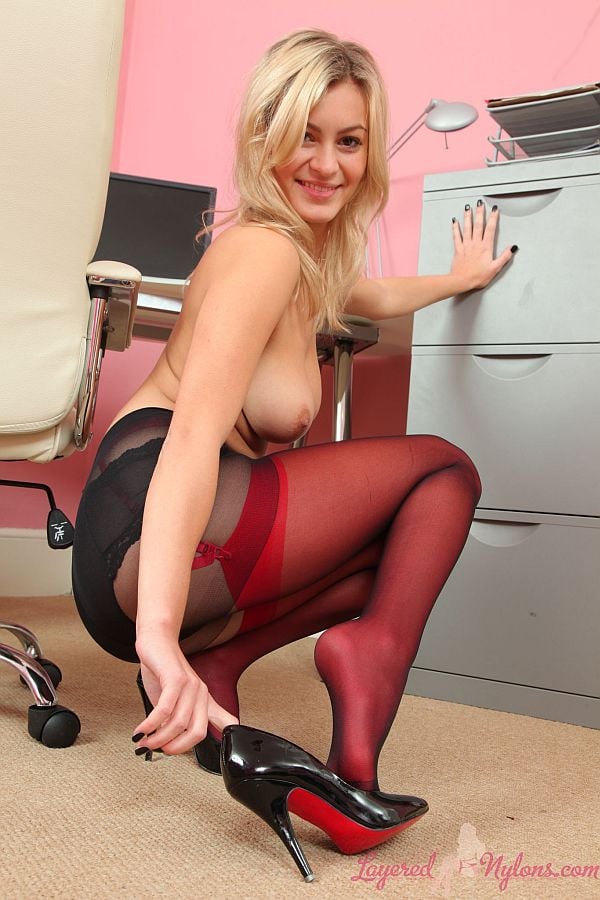 Summer is your secretary today and she's dressed just how you like it in a tight, short red skirt, hosiery and heels…
Summer sits in her chair and smiles as she pulls up her skirt to reveal she is wearing a layer of black, sheer nylon pantyhose, over lacy, red-black panties, red suspenders and stockings.
Stripping off her white top, she uncovers her matching red-black bra, then slipping the straps over her shoulders she unhooks it at the back and pulls it away to reveal her pendulous, all natural breasts.
Standing to lean over the filing cabinet, she presents her ass, clad in black nylon panties and sheathed in a layer sheer nylon hose. She bends right over and her panties wrap even tighter around her ass and cause her suspenders to stretch down her thighs and pull taut on the tops of her nylon stockings.
Summer slips off her shiny, black patent leather heels, then sitting in her chair she crosses her legs and gives close up views of her feet in their layers of black and red nylon hosiery.