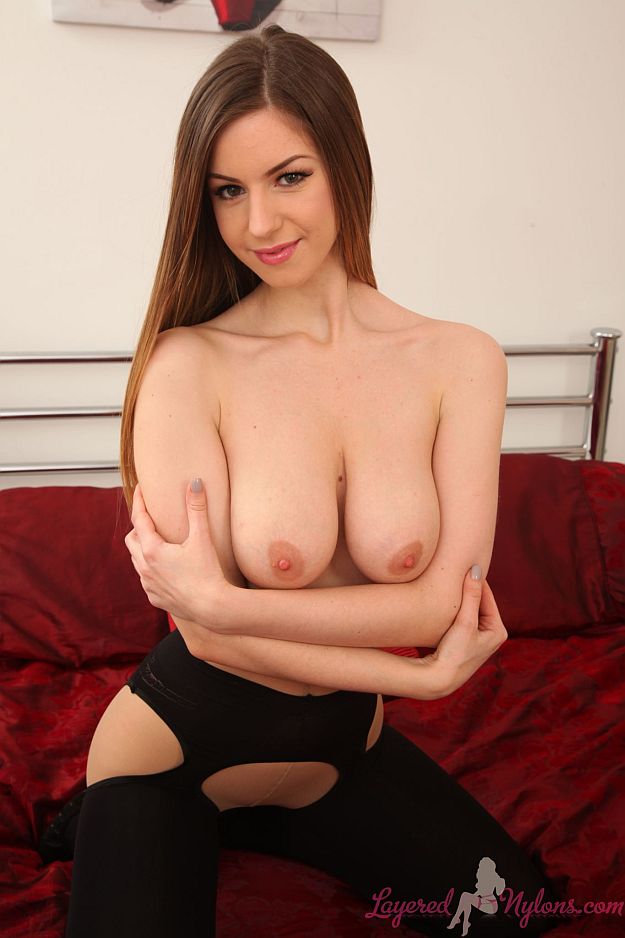 Stella Cox looked pretty with her long, fair hair hanging over her shoulders as she posed for us, her hands pushing her bust together and lifting her cleavage that appeared in the open front of her tight, fitting top.
She turned and showed off her fabulous ass in the short leather skirt that clung to her shapely buttocks, her legs covered in dark hosiery and feet in stiletto heels.
Stella gave a saucy smile as she stripped off her top, revealing the cups of her designer bra decorated in sheer black lace, supporting her boobs. She unzipped the front of her leather skirt and pulled it down, uncovering black suspender-hose layered over her beige-nylon pantyhose, under which she was sans panties.
Stella knelt on the bed and showed off her ass cheeks, sheathed in the beige nylon layer and framed by the open back of her suspender-hose. She slipped the straps of the bra down her arms, slowly stripping the loose cups away so her pendulous boobs hung heavy on her chest.
Stella stood by the bed, caressing her all natural breasts and lifting the soft mounds of flesh in her hands. Her palms swept over her naked chest and down her body as she displayed her fabulous ass and legs in their double layers of nylon pantyhose.