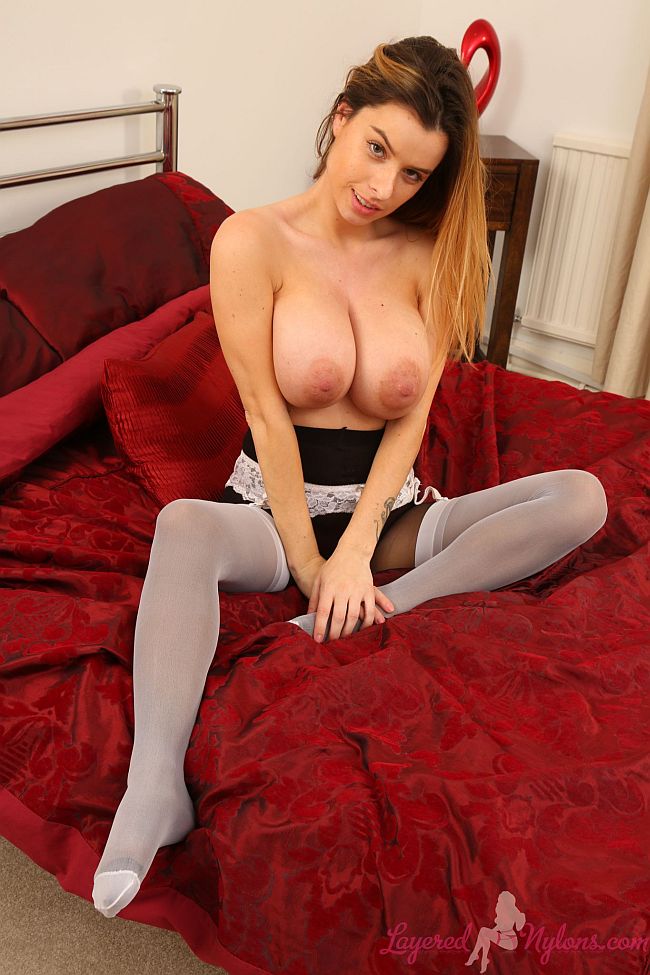 Rae's bust looked quite large in the lace, halter-neck top as she posed, lifting her short skirt to reveal white suspenders and stockings layered over contrasting black pantyhose.
Laying back on the bed she extended her legs and used her feet to slip off her black stilettos and dangled them from her toes. She crossed her ankles and gently rubbed her legs together, sliding the instep of one foot down the back of her calf and pointing her toes inside their layers of nylon hosiery.
Rae rolled onto her side and showed the pink panties that slipped between the cheeks of her ass, under the sheer nylon of her tights. She shifted onto her knees and tilted up her ass and the white suspenders stretched around the curve of her buttocks and pulled taut on the tops of her nylon stockings.
Rae stripped off her dress and stood on the bed, sliding her hands under her suspender straps, down the back of her thighs and into the tops of her stockings. She leaned over to push her arm deep inside one stocking, her hand moving under the stretchy nylon as she caressed her thigh in black pantyhose.
Rae smiled and pulled up the lace top, exposing her ample size breasts that hung down her chest and wrapped her fingers around the soft mounds of flesh. Her hands massaged her beautiful titties and pushed them together, then allowed them to hang freely and bounce and sway as she posed topless.