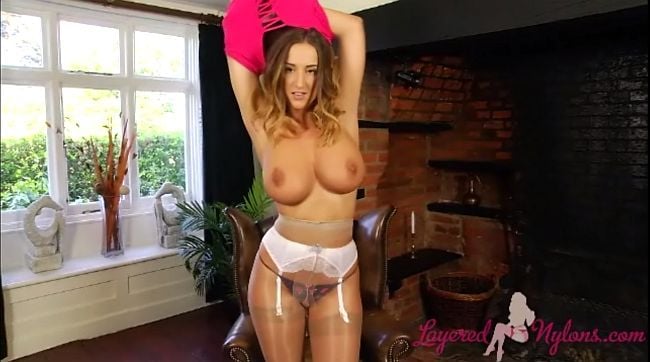 Stacey has fantastic boobs and curves in all the right places, as you probably know if you are familiar with Layered-Nylons.  Here she is stripping and teasing in her latest video…
Stacey stood and posed in her tight fitting pink dress, showing off her legs in shiny nylon hose which reflected bands of light as she moved her body. She ran her hands over the contours of her shapely figure and caressed her huge breasts which thrust against the material of her dress.
Slowly easing the hem of the dress up her thighs, she turned to reveal she was wearing white suspenders attached to tan stockings, under the layer of her pantyhose. Her ass looked incredibly sexy, sheathed in the tight shiny nylon of her hose, the back of her thong disappearing between the cleft of her buttocks.
As she stood there with her dress around her hips, her hands circled and lightly caressed the rounded cheeks of her bum under the silky sheen of her pantyhose. She bent over and ran her hands down the back of her legs, her suspenders pulling taut on the tops of her stockings under the layer of shiny nylon.
She teasingly lifted up her pink top to reveal the huge mounds of her naked, all natural breasts, then stripped the garment over her head. Her hands folded around her boobs and pressed them together, lightly massaging and squeezing the soft, ample flesh in her fingers as they spread around the heavy mounds that hung down her chest.
Stacey stretched the waistline of her hose up under her boobs and pushed her hand down the inside front panel, her fingers touching her lingerie as she posed topless in her layers of lingerie and nylon hosiery.