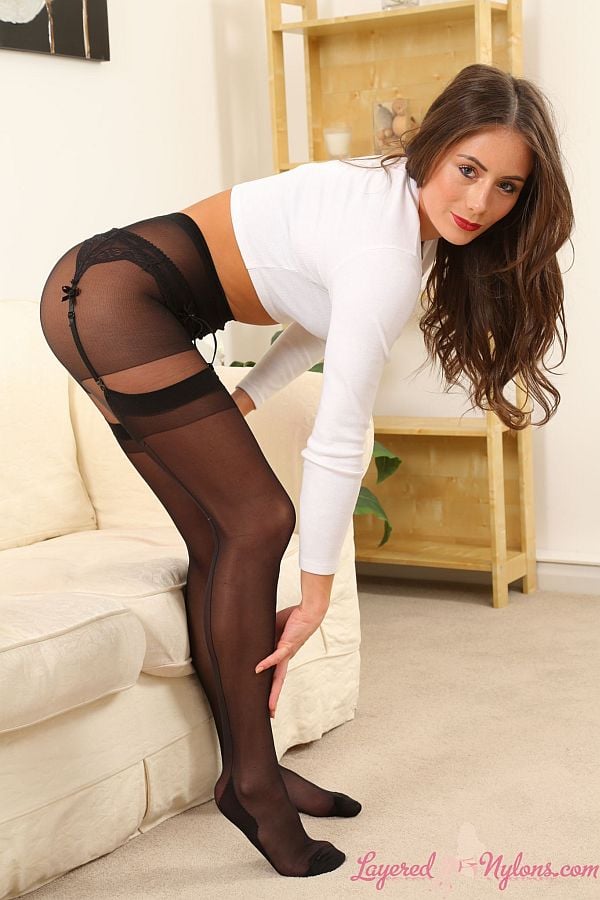 Laura posed in a extremely short white top that exposed her belly, some tight black leggings and knee high suede boots at the start of this photo set.
Reclining on the white sofa, she lifted up her legs so the heels of her boots pointed vertically, the bumps of her suspenders visible under the stretchy material of her tight fitting leggings. She unzipped the sides of her boots and took them off, then lifted her legs to display the soles of her feet in their reinforced black nylon stockings.
Laura got up to stand in her stockinged feet, then turned to give a view of her lacy garter-belt and taut suspenders under the layer of nylon that sheathed her buttocks. Stripping off her white top revealed a low cut, lacy bra, and she used her hands to push together the cups to emphasize her ample cleavage. Unhooking the catch of her bra at the back, she slipped the straps over her shoulders and stripped it away to uncover her lovely, all natural breasts.
Laura's long hair framed her pretty face and flowed over her shoulders, the tresses curling around the edges of her breasts as she posed topless in her layers of black nylon hosiery.