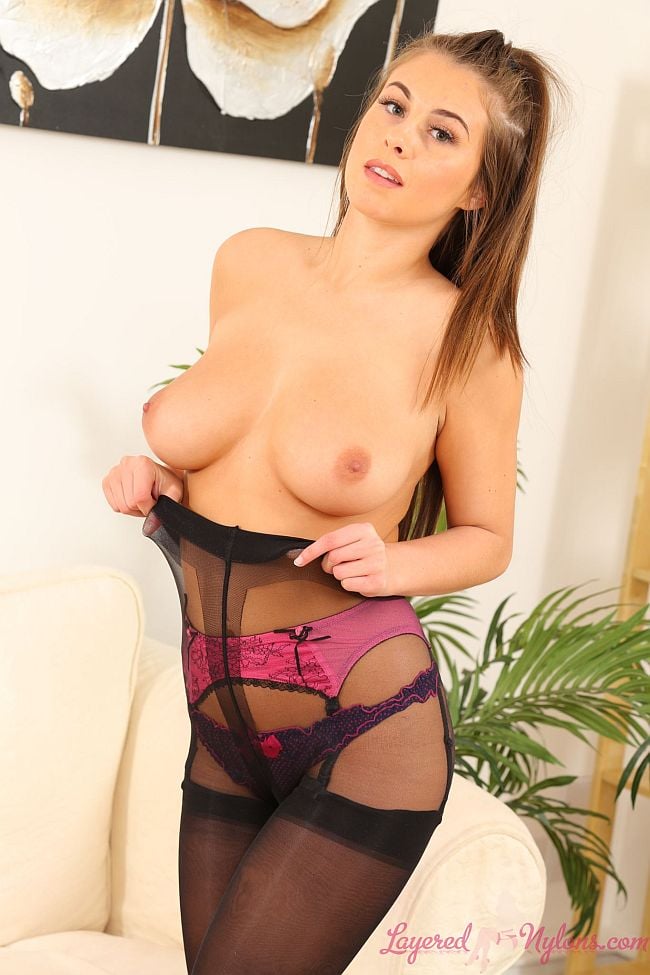 Sarah James looked very pretty as she posed in her pink dress, her shapely legs clad in black nylon hosiery and feet in open-toe, stiletto heels.
Sarah reclined on the sofa and pulled back the hem of her dress to reveal the cheeks of her ass covered in sheer, black nylon pantyhose, under which her suspenders stretched around her buttocks and strained on the tops of her black nylon stockings.
Sarah lifted the dress to show the pink and black panties and suspender-belt, under her sheer nylon hose, her legs incredibly shapely as she stood with her feet poised in stiletto heels. Then stripping off the dress she exposed her pendulous, all natural breasts, while posing in her sexy, pink and black suspender-belt and panties.
Sarah sat on the sofa and dangled her heels from her stockinged toes awhile, then taking them off she knelt to give a view of the soles off her feet covered in black nylon.
Getting up to stand, she hooked her thumbs under the elastic waistband of her pantyhose, then pulled them up her front so the sheer nylon stretched over her suspender-belt and the crocth of her sexy panties.