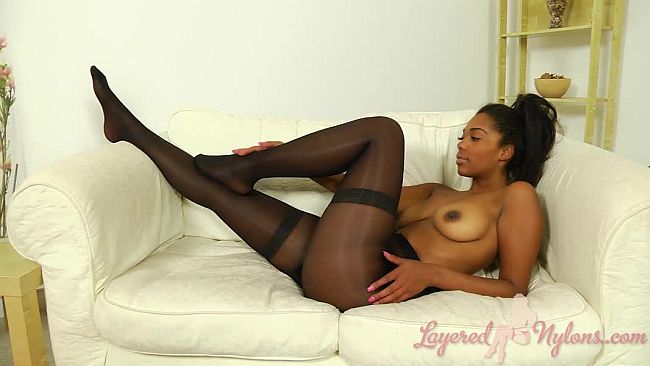 Pretty ebony babe Rehea looks gorgeous in her short, pink party dress, low cut at the front to give a view of her ample cleavage.
Standing in her platform shoes, Rehea moves sensually as she lifts her dress to show she is wearing black lace panties and stockings, under sheer pantyhose. She bends to push out her ass, her hands slowly caressing her shapely buttocks encased in the shiny, black nylon of her tights.
Rehea reclines on the sofa to slip off her shoes, then stretches out and rubs the soles of her feet over the surface of her nylon hosiery covering her extended legs.
Slipping the straps of her dress over her shoulders, she lowers the top and gently fondles her all natural breasts and erect, dark brown nipples.
Rehea gets up to strip off the dress and it swishes as it slides over her nylon clad ass and down her legs to the floor. Discarding the dress, she in stands her stockinged feet and poses topless to show off her beautiful, ebony body clad in layers of black nylon hosiery.