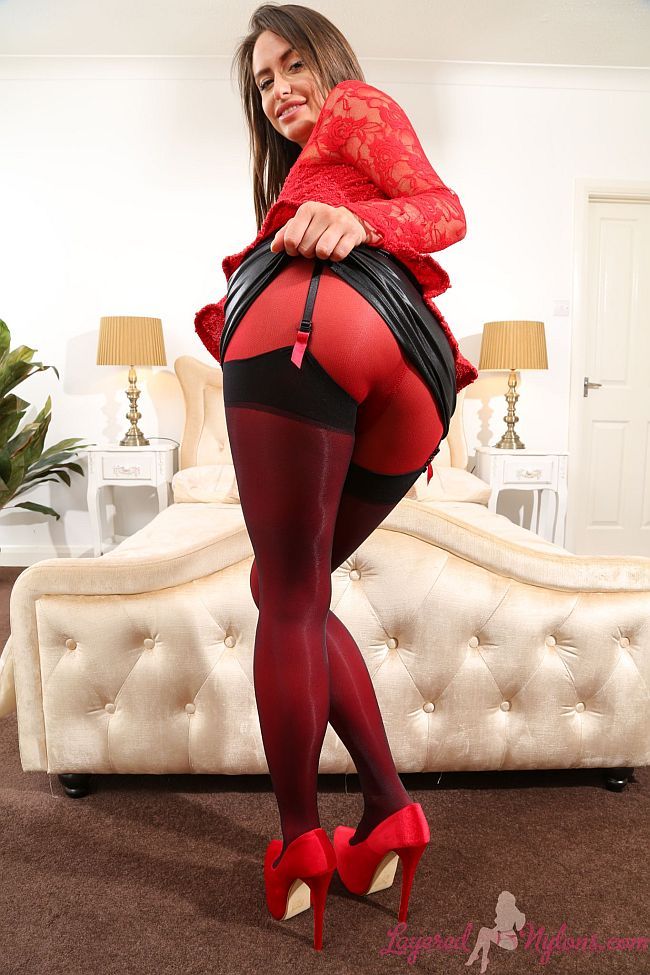 Sarah looked eye-catching in her red and black themed outfit – lace top, short leather skirt, layered nylon hosiery and stiletto heels.
Sarah's long brunette hair fell over the shoulders of sexy red lace top that clung to her slender shaped figure and petite bust. She looked back and gave a sexy smile as she pulled up the leather skirt, revealing black suspenders and stockings layered over red, sheer nylon pantyhose.
Sarah unzipped the skirt and bent slightly as it slipped down her legs, her rounded buttocks sheathed in red nylon hose looking so sexy. She ran her thumb under one of her black suspenders and pushed it outward, then let it snap back against the clingy nylon covering her shapely ass.
Reclining on the bed, Sarah slipped off her heels and lay back with her legs open, giving a view of her pantyhose gusset as she rubbed her pretty, nyloned feet together.
Kneeling, she stripped off her lacy top to expose her petite, all natural breasts and posed topless in her layers of red and black lingerie and nylon hosiery.