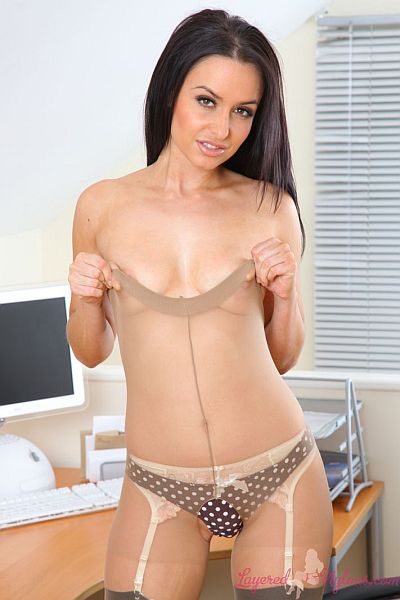 Secretary Sarah unzipped her skirt and let it fall down her legs sheathed in sexy layers of beige nylon pantyhose over black stockings. Kicking the skirt away, she climbed onto the desk to reveal she was wearing some very sexy polka dot panties, which were nicely framed by the open crotch of her sheer pantyhose.
Kneeling on the desk she tipped her gorgeous ass upwards, causing the straps of her cream coloured suspender belt to stretch over her thighs and pull on the tops of her black stockings.
Removing her top revealed Sarah was wearing a polka dot bra that matched her panties. Then unhooking the bra at the back, she held the cups in her hand and gradually let it fall away to uncover her naked breasts.
Sarah pulled up the waistband of her tights until they were just under her boobs, then pushed both of her arms down the sides of her hose to rest her hands on her naked thighs and feel the bumps of her suspenders attached to her stockings tops.
See gorgeous secretary Sarah E teasing in the office in a layer of open crotch pantyhose over black stockings in the 128 image photo set at Layered-Nylons.