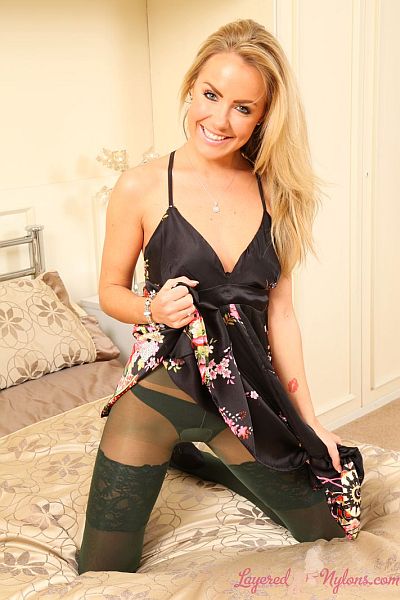 Blonde babe Becky R was getting ready to go out for dinner date with a gentlemen, with every intention of behaving in a flirtatious manner that evening. After all, a bit of tease and excitement was part of the fun she expected,  but she was not sure if the guy preferred to see stockings or tights on a lady.
Becky sought our opinion on the matter, and asked us if we thought she had correctly chosen the right things to wear for the occasion. Hedging her bets she had decided to wear a layer of bottle green sheer to waist pantyhose, over some very sexy 'Falke' stay-up stockings with lace tops.
Lifting up her elegant summer dress she showed us the lovely, lace top stockings she was wearing under the sheer nylon layer of her pantyhose. Indicating we'd need to see a little more, Becky unzipped her dress and let it fall down her nyloned legs to the floor, whereupon she stood and posed topless while we offered our appraisal.
Those lacy stockings were definitely the right choice for a romantic date, and ideal for teasing the guy with a few tantalizing glimpses of her lace stocking tops as they chatted over a few drinks. Plus, we were pleased to see that Becky was wearing panties under her tights, which were totally appropriate, as no respectable girl would go without her panties on a first date for sure.
Becky then wondered if the guy had a liking for ladies feet, and was thinking about dangling her heels from the tips of her toes, to see how he responded. Let's have a look, we said! So she then slipped off her heels and lay on the bed with her legs stretched out to display the soles of her feet, cocooned in a layer of opaque nylon.
Whatever the gentleman's preferences, we certainly thought that Becky would please any man if he saw her teasing in this sexy combination of hosiery.
See flirty blonde babe Becky R teasing in her layer of nylon pantyhose over sexy lace top stockings in her 136 image photo set at Layered-Nylons.