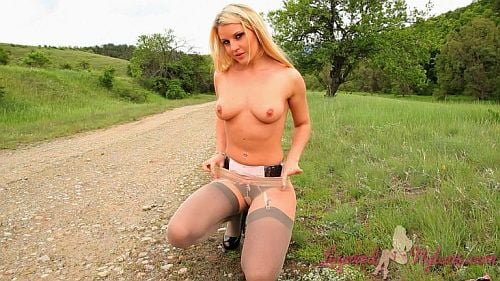 Sexy blond babe Naomi performs an outdoor tease in the countryside and strips down to her layer of sheer nylon pantyhose over black stockings in this video at Layered-Nylons.
Naomi removes her coat and lifts up her satin shift to show she is wearing a layer of beige-tan pantyhose over black stockings, sheer panties and a cream coloured garter-belt.
Lifting the slip over her head reveals she is wearing a black bra with sheer lace and and pink bow that matches her panties. Then slipping the straps of the bra over her shoulders, she holds the cups in place and slowly lets them fall away to uncovered her naked breasts.
Naomi hooks her thumbs into the waistband of her tights and pulls them down until they are stretched around her pantied ass. She then pulls the pantyhose back up and poses topless, while she turns to show off her legs sheathed in her layers of nylon and lingerie.
See this sexy blonde babe teasing outside in layers of sheer pantyhose over black nylon stockings and lingerie in this video at Layered-Nylons.