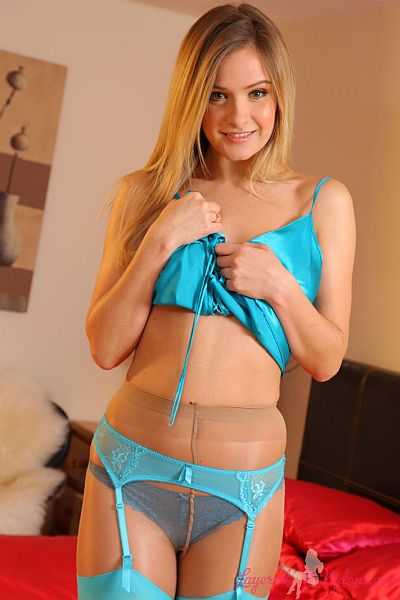 Elle Richie removes her nylon stockings and pantyhose, then putting them on again she layers the pantyhose over the stockings in her latest sexy tease photo set at Layered-Nylons.
Elle looked very pretty as she posed on the bed, lifting up her blue satin chemise to give us a view of her blue stockings and suspenders layered over tan pantyhose. The globes of her ass looked fabulous under the shiny, sheer hose over which the taught suspenders stretched down to the tops of her nylon stockings.
Raising her arms she lifted the chemise over her head and shook her hair, which then settled over her shoulders and hung loosely down to her naked breasts. Looking even more beautiful that before, she stood and posed topless in her combination of garterbelt, panties and stockings.
Sitting on the edge of the bed she slipped off her heels, letting them dangle from her toes, before taking them off to display her dainty feet. Then detaching each of the suspenders from her stocking tops, she rolled her nylons down her legs an took them off. Next she unhooked her suspender belt an put it to one side, then pulled down her pantyhose until they were removed completely and she was left standing in her lacy panties.
In a reverse striptease, Elle dressed in her suspenders and stockings, then pulled on her tights and stretched them up her body until they were layered completely over her lingerie.
See sexy glamour model Elle Richie stripping and posing topless in her layers of nylon stockings and pantyhose in this 135 image photo set at Layered-Nylons.