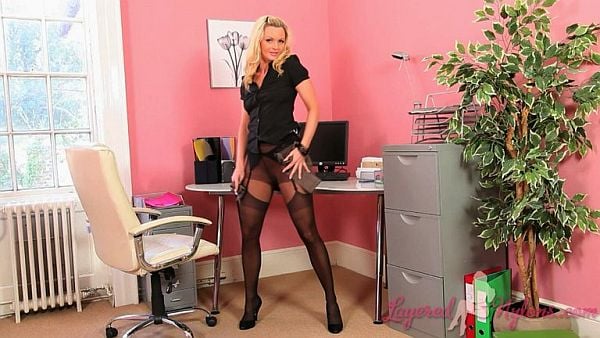 Blonde secretary Sandra sways seductively as she turns around and teasingly lifts up the back of her skirt to give the slightest glimpse of her stockings tops.
Leaning back against the edge of the desk she unbuttons the the front of her skirt and opens it up to show she is wearing a layer of black, nylon pantyhose over her suspenders and stockings.
Sandra continues her seductive dance as she fully opens the skirt to reveal she is sans panties under her layer of sheer nylon hose. She turns once more, swaying her nylon covered ass from side to side, her suspenders stretching over her fabulous buttocks and pulling taut on the tops of her stockings.
Sandra undoes her top and pulls it open to reveal her petite all natural breasts and continues her sexy dance, sliding her hands all over her slender yet curvaceous body.
Hooking her thumbs into the waist of her pantyhose she pulls them down to uncover the lacy, black suspender belt underneath, then sits in the chair and slips off her heels.
Sandra's hands constantly caress the layer of nylon covering her legs as she extends and stretches them outwards, pointing the toes of her pretty nyloned feet.
As she gets out of the chair she pulls down her pantyhose, fully revealing her naked crotch framed by her suspenders. She then turns and bending slightly forward, gives a rear view of her the cheeks of her shapely, naked butt.