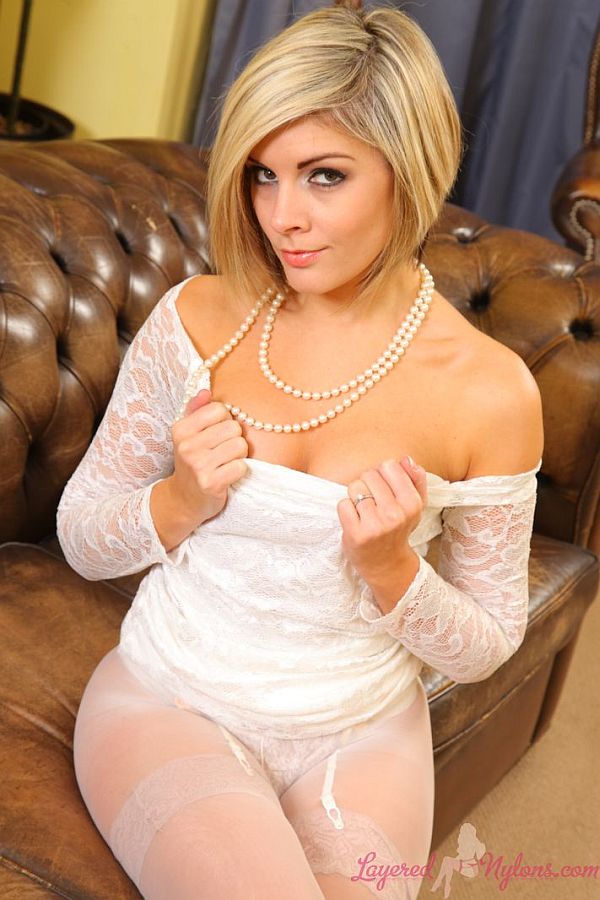 Naomi K looked very stylish, cool and sexy in her lacy dress and twin set pearl necklace as she stood in her heels, showing off her shapely legs in their silky, shiny nylons.
Naomi slowly lifted the front of her dress up to her hips, to reveal she was wearing a layer of white pantyhose over a lacy pantie thong, suspender belt and light beige coloured stockings with pretty lace tops.
She turned to give us a rear view of her ass sheathed in sensuous, shiny nylon, and the 'whale tail' of her pantie thong that disappeared between the cleavage of her ass cheeks.
The long white suspenders which framed her buttocks looked so erotic under the layer of her sheer nylon hose, as they stretched over the curves of her gorgeous ass and down to the tops of her sexy stockings.
Stripping out of her dress revealed her petite, natural breasts, then reclining on the leather sofa, she slipped off her heels and stretched out her legs for a closer view of her feet in nylon.
Naomi pulled down her pantyhose and peeled them off her legs and feet. Then kneeling in her stockings, she sat back against her ankles and gave a view of the soles of her dainty feet as she detached her suspenders.
Having stripped off each of her stockings, she then reversed the striptease and pulled her pantyhose up her legs, followed by the stockings and finally reattached her suspenders to complete her performance.