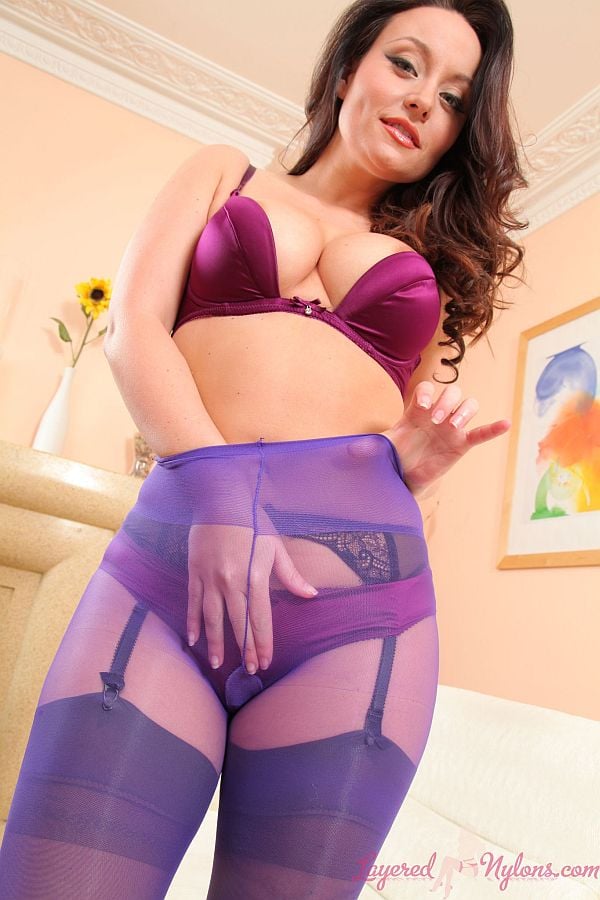 Busty brunette Carla was sitting on the sofa and uncrossed her legs to give an upskirt video of her panties, suspenders and stocking tops, which were all under a layer of purple pantyhose.
Carla stripped off her top to let us look at those voluptuous breasts of hers, which were supported by a magenta coloured satin bra. She then turned to pull down her short, black skirt over her fabulous ass and showed off her curvaceous legs, which looked incredibly sexy as she posed in her shiny layer of nylon pantyhose and heels.
Slipping off her heels, she lay back on the sofa and raised her legs upwards, crossing them at the ankles to give a close up view of the soles of her dainty feet in nylon. Then spreading her legs open, she gave us a view of the purple gusset patch covering her panties and pushed her hand down the front of her hose and over her pantied crotch.
Carla got into a kneeling position and pushed her ass outwards so the tight, shiny nylon and panties beneath stretched tight around her buttocks, causing her suspenders to strain on the tops of her nylon stockings.
Carla stripped off the bra and posed topless, then hooked her thumbs into the waist of her pantyhose and pulled them down so they were stretched around her thighs and revealed her satin panties.
She then lay on the sofa once more and stretched out her legs to give us more views of her shapely ass and legs sheathed in their layer of sheer nylon pantyhose.