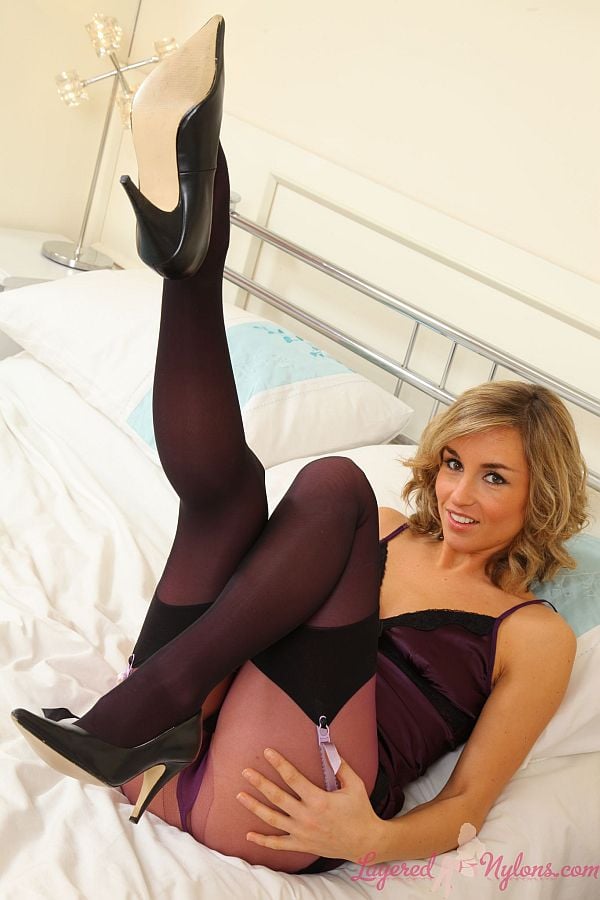 Melanie reclined on the bed in her dark purple satin chemise, black nylon stockings and pink suspenders layered over plum colored sheer nylon pantyhose.
She lifted up her shapely legs and opened them to display the opaque purple patch of her pantyhose gusset which was layered over her purple panties; the webbing of her suspenders radiating out to the tops of her black nylon stockings nicely framing the area of her crotch.
Melanie removed each of her shoes in turn and dangled them from her toes, then slipped the thin straps of her chemise from her shoulders and let the garment fall to uncover her petite all natural breasts.
Semi-naked, she lay back on the bed and lifted her legs upwards to point and display her feet layered in nylon, causing her long pink suspenders to stretch over her thigh and pull on the tops of her nylon stockings.
Melanie then got up to stand and pushed her hands under her suspender belt and down the front of her pantyhose, then turned and moved her hands around the inside of her hose and felt the naked cheeks of her ass.
Finally, laying on the bed she offered more views of her pantyhosed crotch and panties, then got into a kneeling position to present her ass sheathed in it's layer of sheer nylon.