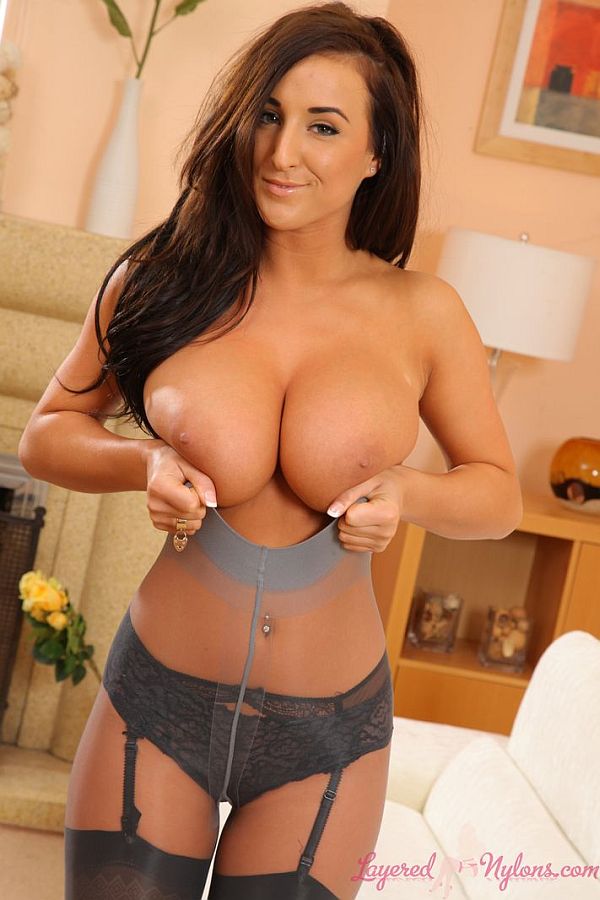 Busty brunette Stacey P sat on the sofa with her legs slightly parted for an upskirt view of her sheer nylon pantyhose which we could see where layered over black stockings and panties.
Stacey stood and unzipped the front of her short black skirt, slowly peeling it away at the sides and allowing it to unfold to reveal she was wearing lacy French knickers and black suspenders which stretched down her thighs to the tops of her nylon stockings.
She sat and looking up gave a saucy smile as she unbuttoned the front of her top, making sure to tease us with a tantalizing view of her busty cleavage, then slowly opened the top and revealed the mounds her huge, all natural boobs.
Stacey posed to show off that magnificent chest and her shapely legs in shiny pantyhose, which clung tightly around her waist and thighs as she stood in her sexy knee high boots.
Then she unzipped the boots and sat back to lift up her legs and offer a close up view of her feet sheathed in an opaque layer of greyish nylon.
Finally, she stood once more and pulled her pantyhose down to her thighs, uncovering her lingerie and making sure to give a rear view of the sexy lace panties, which fitted tight around the curves of her shapely ass.