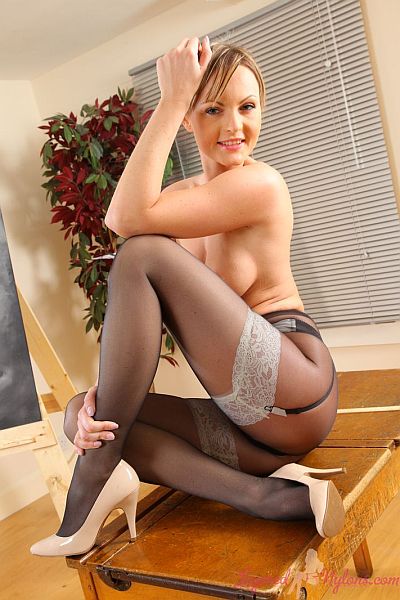 Bespectacled teacher Sandra strips off in the classroom to show off her layers of stockings, suspenders and pantyhose in this photo set at Layered-Nylons.
Sandra always prefers to dress smartly in a suit, stockings and heels whenever she is working at the college where she teaches business studies. She often catches the guys in the class looking at her legs in their sexy layers of shiny nylon hosiery. Whenever she turns back from writing on the white board, she notices they quickly avert their eyes and pretend they are concentrating on their notes.
Knowing they are mentally undressing her makes her feel very sexy and encourages her to tease them further, making sure the bumps of her suspenders show on the outline of her tight pencil skirt as she bends to write once more on the board.
Sandra's secret fantasy is to strip out of her clothes in front of her class and parade around in her layers of sexy nylon stockings and pantyhose. It's just a fantasy and she would never be able to do this in front of her students, but we found her an empty classroom where she could indulge in her naughty desires.
She began by lifting the hem of her pencil skirt to tease us with a look at her suspenders attached to lace topped white stockings under a layer of black nylon pantyhose. Then when she removed her skirt we saw at she was sans panties, with the reinforced gusset tantalizingly covering most of her intimate parts.
Posing topless, she gave us a full frontal view of her pantyhose crotch framed by her suspenders and stockings tops. Then climbing onto the desk she lay back and extended her legs upwards and crossed her heels, giving a perfect view of her peachy ass encased in a layer of sexy, shiny black nylon.
See Sandra striptease down her sheer nylon pantyhose over white stockings in this 135 image photo set at Layered-Nylons.