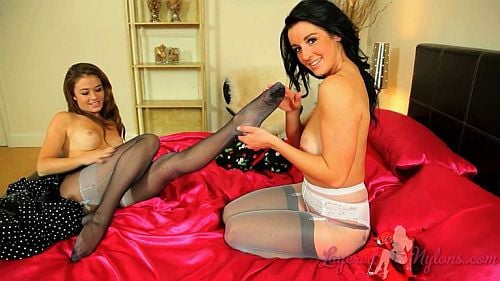 Sarah B and Jess Impiazzi strip out of their dresses and tease in their layers of nylon stockings and pantyhose in this video at Layered-Nylons.
Sitting on the bed, Sarah B and Jess lift their elegant summer dresses up to their thighs and run their hands over their legs encased in layers of nylon stockings and pantyhose.
'These tights feel nice and silky,' Sarah says, as both girls enjoy the sensation of their fingers stroking the double layers of nylon that cling tightly to their shapely legs.
Kneeling together on the bed, they help each other strip out of their pretty frocks to reveal they are both without bras and topless from the waist upwards.
Jess takes Sarah's shoes off and runs her hands over her feet and legs layered in a combination of white nylon tights worn over some lovely black stockings she is wearing underneath.
Sarah then takes off Jess's red heels and caresses her legs sheathed in contrasting shiny black tights worn over white full-fashioned nylon stockings.
Both girls then lay on the bed and admire each other dressed in their sexy layers of nylon covering their saucy panties and suspender belts.
See Sarah B and Jess teasing on the bed in their naughty layers of pantyhose and stockings in this video at Layered-Nylons.