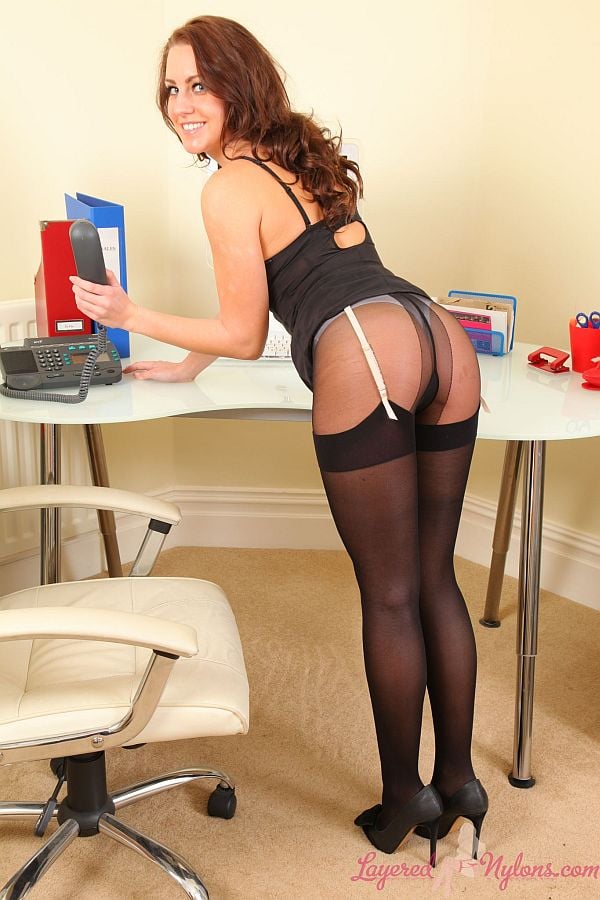 Secretary Sammy dressed very sexy for the office today, wearing a satin and lace camisole under her jacket, a short skirt that reveled her thighs and legs in black hosiery and heels.
Sammy posed in front of the desk showing off her bum in that tight skirt, then unzipped it and revealed her lingerie as it slid down her legs and fell to the floor around her heels.
Lifting up her lacy camisole showed she was wearing a cream coloured suspender belt attached to black nylon stockings, layered over sheer nylon pantyhose and panties.
Removing her jacket, she turned and leaned over the desk and presented a view of her ass clad in black, sheer nylon; the suspenders stretching over her buttocks and pulling taut on the tops of her black nylon stockings.
Sammy slipped the thin straps of her camisole over her shoulders and uncovered her all natural breasts, then sat on the office floor and slipped off her heels to let them dangle from her toes awhile. Then removing her shoes, she posed with her legs open and knelt in several positions to show off her ass and feet in their multiple layers of black nylon hosiery.