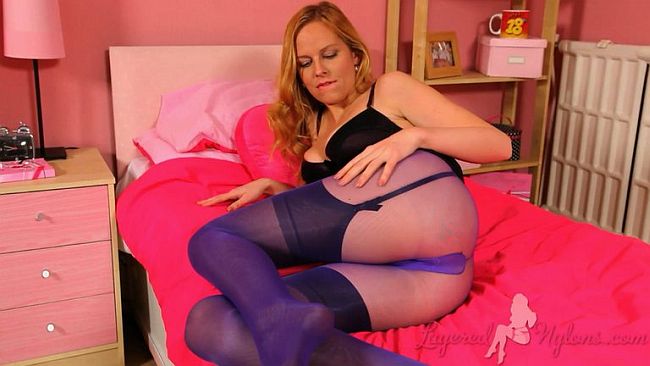 Monika dressed in a tight fitting denim top and short skirt, which provocatively displayed the tops of her black nylon stockings that were layered under purple, sheer nylon pantyhose, that shimmered in the light as she brushed her thighs together.
Monika looked so alluring as she swayed her body in an erotic rhythm, cupping her hands under her bust and then running them over the curves of her hips.
She popped open the buttons of her denim top and took it off to uncover the black bra beneath, then laying sideways on the bed, she stretched out her nylon clad legs and slipped off her heels.
She gave a naughty smile and pulled up the back of her skirt to reveal she was sans panties under her pantyhose; her black suspenders stretching over her buttocks and pulling taut on the tops of her nylon stockings.
Monika opened her legs and swept her hand down her thighs and over the crotch of her pantyhose, behind which the faint trace of trim pubic hair could be seen through the sheer nylon above the gusset.
Kneeling, she stripped off her dress to reveal the lacy black suspender belt and the suspenders framing the purple patch of her pantyhose gusset. Then she removed her bra and cupped and squeezed together her all natural breasts in the palms of her hands as she posed topless in her lingerie and nylon hosiery.