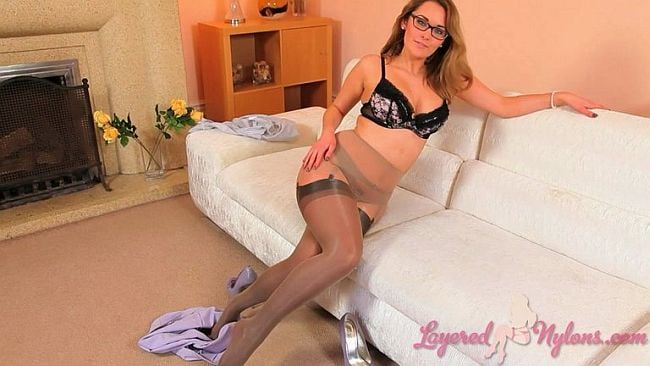 'Hi, I'm Zoe Alexandra and I bet you want to know what's beneath this skirt!' Zoe smiled as her hands caressed the outline of her fabulous curves and iridescent bands of light reflected off the surface of her glossy pantyhosed legs.
Wearing glasses and dressed in a tight fitting shirt with the buttons undone to reveal her cleavage, a figure hugging pencil skirt, shiny pantyhose and heels, she looked like the perfect secretary.
Zoe pulled up her skirt to reveal black stockings, suspenders and a pantie thong, all under the sheer layer of her nylon tights. She then turned to give a view of her ass sheathed in clingy hose and the suspenders stretching over her thighs and pulling taut on the tops of her black stockings.
Sitting on the sofa she slipped off her heels and opened her legs to give teasing glimpses of the crotch of her lacy black panties. She then stripped off her shirt to reveal she was wearing a matching low-cut bra, with lace cups that firmly supported and uplifted the flesh of her large bust.
Zoe unzipped her skirt and it made a whispering sound as it slid over the cheeks of her ass and down her legs in their smooth and glossy nylon hose. She then stripped off the bra and posed topless, standing in her stockinged feet and swaying her hips as she gave a view of her ass encased in sheer nylon hosiery.