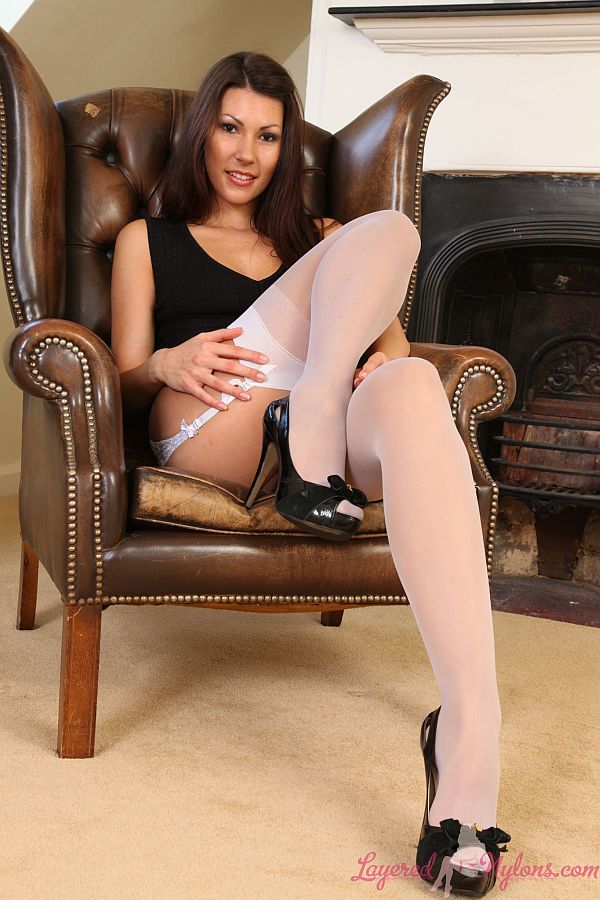 Sabrina looked just about ready to party in her short black dress, and had decided to wear white "trasparenze' stockings and shiny black, patent leather heels to complete her outfit.
She slowly inched up the hem of her dress up her thighs to reveal she was not only wearing stockings, but a red pantie thong under some beige tan, sheer nylon pantyhose.
The white suspenders that stretched down her thighs looked very sexy in contrast against the tan nylon that sheathed her legs. She turned to give us a rear view and her ass looked fabulous covered in silky tan pantyhose; the white suspenders stretching around her shapely buttocks and pulling ever so tightly on the tops of her white nylon stockings.
Sabrina lifted the front of the dress to show more of her lace suspender belt, perfectly framing the red triangle of the red pantie thong under her sheer nylon hose.
Sabrina stripped off her dress and posed topless as she sat in the chair and removed her black, opened toe heels, then lifted her legs to display her feet and give a close up view of her soles in their layers of expensive fine nylon.