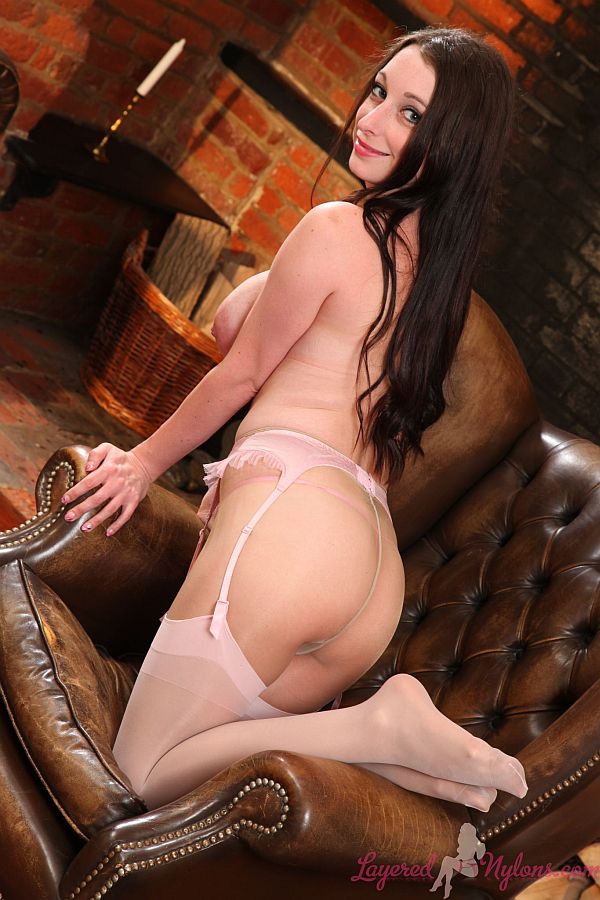 Busty brunette Gemma Lou sat in the leather chair and lifted up her peach coloured dress, revealing she was wearing pink suspenders and nylon stockings, layered over beige tan pantyhose.
Gemma Lou gave a mischievous smile as she slipped her hand between the layers of nylon covering her thighs, causing her suspenders to stretch and pull on her pink stockings tops.
Standing up she lifted her dress up at the back and her gorgeous ass encased in a layer silky, sheer nylon came into view; the thick seam of her pantyhose running up the back from the gusset of her sheer to waist pantyhose.
Gemma Lou stripped out of her dress, revealing a candy pink bra that supported her huge titties, and a frilly, pink suspender belt and suspenders, which framed the pink panties she was wearing under her sheer nylon tights.
Slipping the bra straps over her shoulders, she held the cups in place before removing the bra and revealing her voluptuous all natural boobs with their reddish, pink aureoles.
Gemma Lou dangled her heels from her toes and then slipping them off, she displayed the soles of her feet in their opaque layers of pink and tan nylon stockings and hose.