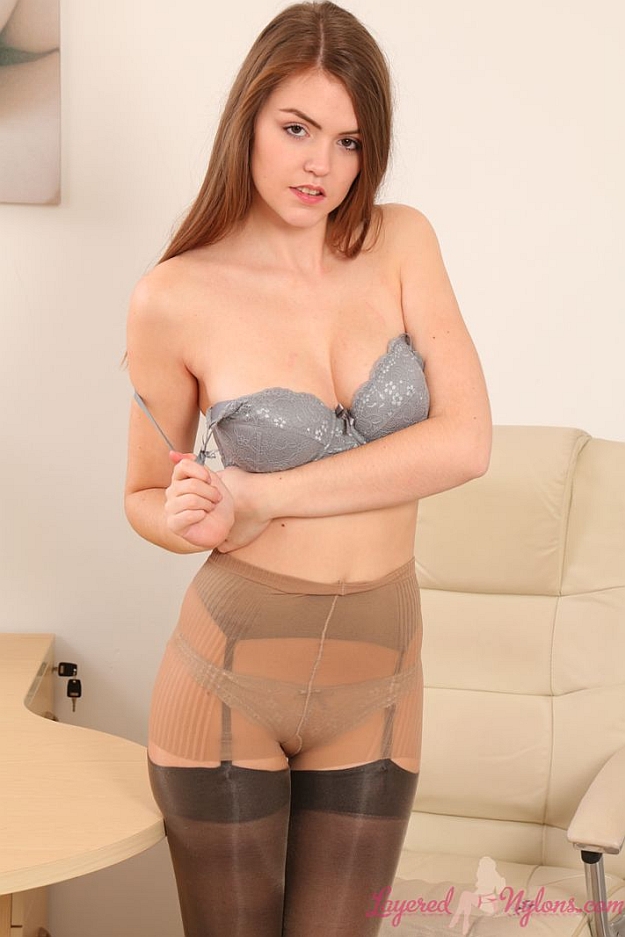 Rosie posed by the desk, wearing a long red dress that clung to her slender figure and covered most of her legs. Slowly pulling the dress up above her thighs she revealed her black suspenders and stockings under a layer of beige, sheer nylon pantyhose.
Rosie turned to go over to the filing cabinet, opened a draw and looked back over her shoulder. She pulled the dress up around her waist, revealing tiny lace knickers under the layer of her sheer nylon hosiery that covered the cheeks of her ass.
Rosie returned to her chair, lifting her legs onto the desk and untying the laces of her suede designer ankle boots to give us a view of her pretty feet in their double layers of nylon.
She stripped off the red dress and pulled the waist of her pantyhose up toward the grey lace bra that covered her breasts. Slipping her arm under the layer of stretchy nylon hose, she ran her hand over her thighs and her fingers caressed the tops of her black stockings.
Rosie got up and stood in her stockinged feet, then stripped off her bra to reveal her all natural breasts and posed in her suspenders, stockings and pantyhose layers.